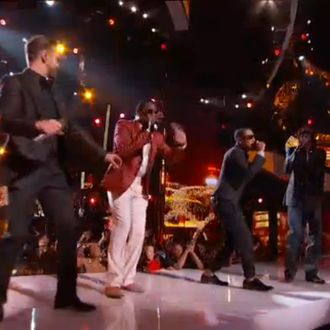 The big winners at last night's BET Awards were Kendrick Lamar and Drake, only one of whom showed up to collect his three awards (that'd be Kendrick, who took home Best Male Hip Hop Artist, Best New Artist, and Best Collaboration for "Fuckin Problems"). But like any respectable cable awards show, the BET Awards are not really about trophies — they are about performances. And there were so many performances. Here, come inside, see what you missed! (Warning: autoplay ahead.)
The Lifetime Achievement Award went to Charlie Wilson, who performed with Pharrell, Justin Timberlake, and Snoop. (Indie Arie and Jamie Foxx also did a Wilson tribute. It's here.)
Snoop and Justin got in sync (HA!)
Mariah debuted her "#Beautiful" remix with Young Jeezy and her many, many chandeliers (apparently it was her shed). Meanwhile, poor Miguel was banished to the stairs for the duration of the performance. That is what you get for landing on someone's head.
And when they were done with Mariah? They put her away.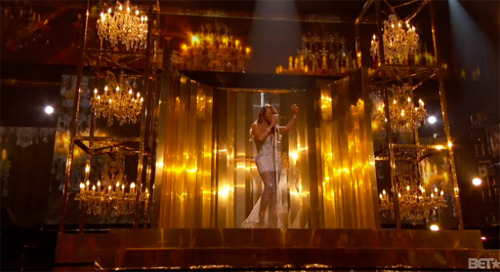 Released from stairs jail, Miguel did "How Many Drinks" with Kendrick Lamar and "Power Trip" with J. Cole. (He also won Best Male R&B/Pop star, in case you were doubting Miguel's significance.)
Kendrick recruited Erykah Badu for "Bitch Don't Kill My Vibe." (Yes, she did "Q.U.E.E.N." too.)
And Robin Thicke brought T.I. and his hasthags for "Blurred Lines." The Pharrell strut: so important.
Nicki Minaj was there, too. And Ciara. And R. Kelly. And the cast of Think Like a Man. Really, you could watch videos all day.