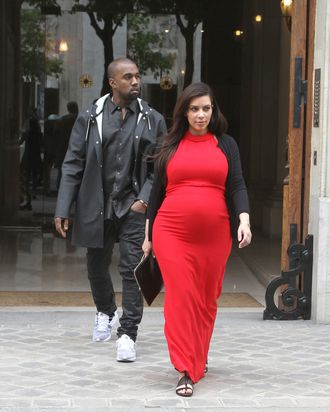 Kim Kardashian is glowing while out and about with Kanye West for dinner in NYC.
Photo: KCS Presse/Splash News/Corbis
As you surely recall, the world was positively desperate for information on the Kardashian-West family following the June birth of baby North, and it seems that certain Cedars-Sinai employees with access to Kim's medical records were no exception — either because they were looking to satisfy personal curiosity or, more likely, because they knew that some members of the press would pay for leaked details of the blessed event. The LA Times reports that six people have been fired from the hospital for "inappropriately accessing" patient records between June 18 and June 24. While a Cedars-Sinai spokesperson wouldn't say exactly whose privacy was violated, five of the canned employees reportedly only looked at one set of records (another helped themselves to a total of fourteen), and the snooping all took place between June 18 and June 24. (North was born on June 15, and Kardashian stayed in the hospital for a week.) Plus, TMZ  "sources" say the family "suspected that information was leaking from the hospital" after reading post-birth media reports, and Cedars-Sinai reportedly informed Kardashian she had been spied on.