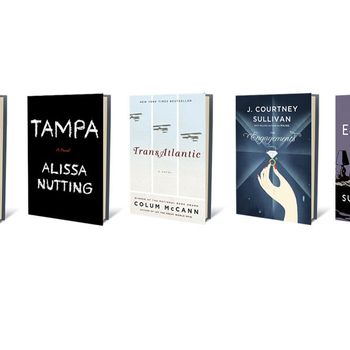 Books and summer. Books and summer and a frosty, easy-sipping beverage. Books and summer and a frosty, easy-sipping beverage and a hammock positioned under the shade of an oak or palm tree, preferably with a cool breeze wafting overhead. If you're like us, these increasingly relaxing endeavors make you sigh, because you know there's no reading quite as wonderful as the reading you do in the summer. We whole-heartedly recommend it! Whatever you choose to read is fine by us, but Vulture is on the case for those of you still looking for the perfect page-turner to take along on your upcoming vacation or staycation. Here are 25 currently or imminently available titles to consider, neatly arranged to suit your particular summer reading palate.
EASY BREEZY
The Interestings, by Meg Wolitzer
Wolitzer's exploration of a group of teenagers who grow up and into middle-age, mostly together, may be the hottest book of the season. But rightly so — it's ripe and heady like a perfect peach and, like so many summers, it begins at camp. (Riverhead, $27.95)
The Engagements, by J. Courtney Sullivan
Summer is wedding season, and wedding season needs a big summer book. Sullivan's novel about relationships, marriage, and the female copywriter who came up with the "A Diamond Is Forever" slogan for De Beers in the forties is that big summer book. (Knopf, $26.95)
The Yonahlossee Riding Camp for Girls, by Anton DiSclafani
It's the Great Depression and 15-year-old Thea Atwell has been sent to an equestrienne boarding school for Southern debutantes. Think money, class, power, intrigue, love, and sex. And horses, of course. (Riverhead, $27.95)
Sisterland, by Curtis Sittenfeld
Prep author Sittenfeld's back with a fourth novel about identical twins who have dealt with the psychic abilities they possess in very different ways: One embraces her talents and the other attempts to ignore them. But the emotionally engaging book is less about ESP and more about family, loyalty, and choosing one's own path. (Random House, $27)
WATERCOOLER WONDERS
Tampa, by Alissa Nutting
Everybody seems to be talking about this book, or will be soon — maybe because it's about a 26-year-old female teacher who aggressively targets and seduces a 14-year-old male student. It's as riveting as it is disturbing. (Ecco, $25.99)
The Woman Upstairs, by Claire Messud
Messud's latest, about a schoolteacher who'd long given up hope of having it all (until everything changes), has caused a stir, and a string of ensuing conversations, about whether (female) characters need be likable. (Knopf, $25.95)
We Are All Completely Beside Ourselves, by Karen Joy Fowler
Why would an intensely likable, hilarious, and poignant book about a completely ordinary American family be the perfect summer read? Because of the scene-stealing chimpanzee, of course! (Marian Wood, $26.95)
My Education, by Susan Choi
Regina is a graduate student in writing who gets more than she bargained for — and the "education" alluded to in the title — when she becomes entangled with her professor, and also his wife. Both erotic and literary, this is a book that fulfills all the promise of a long, hot summer. (Viking, $26.95)
Love All, by Callie Wright
Under her parents' old mattress, Anne Obermeyer finds a copy of The Sex Cure, a real-life sixties-era roman à clef that scandalized Cooperstown, New York. Though it's nearly 40 years later, those hidden secrets, and myriad feelings about them, are brought forth once again at the discovery of the battered tome. (Henry Holt, $25)
INTERCONTINENTAL GEMS
The Flamethrowers, by Rachel Kushner
Kushner — whose first novel, Telex from Cuba, was nominated for a National Book Award — tells the engrossing tale of a motorcycle-obsessed artist who comes to New York City just as the Soho scene is exploding in the seventies, promptly falls in love, and journeys with her new beau to Italy, where she gets involved with a radical crowd. The novel has sparked debates well beyond its pages. (Scribner, $26.99)
Transatlantic, by Colum McCann
McCann's latest takes readers across continents and centuries as he weaves together three "crossing" stories: two aviators, bound for Ireland, attempting the first nonstop flight across the Atlantic; Frederick Douglass traveling to Dublin on his book tour; and Senator George Mitchell departing America to assist in peace talks in Belfast. (Random House, $27)
You Are One of Them, by Elliott Holt
Ten-year-old besties Jennifer Jones and Sarah Zuckerman, who live in Reagan-era Washington, D.C., write letters to Soviet premier Yuri Andropov. Only Jenny gets a response, and she enjoys a visit to the Kremlin and the media attention that ensues. Years later, though, after Jenny and her family die in a plane crash, Sarah is left to try to uncover what really happened. (Penguin Press, $26.95)
Today Is the Last Day of the Rest of Your Life, by Ulli Lust
This amazingly cool graphic memoir from cartoonist Lust is based on her experience hitchhiking across Italy in 1984, when she was a "rebellious, punked-out" 17-year-old. And, yes, graphic memoirs are a thing. (Fantagraphics, $35)
SLEEP WITH THE LIGHTS ON
Red Moon, by Benjamin Percy
A genre-bending literary thriller set in the American West and featuring werewolves that also happens to be spot-on social commentary? How could you say no? (Grand Central, $25.99)
The Shining Girls, by Lauren Beukes
Warning: Once you begin this brilliantly conceived page-turner, it will be very difficult to stop reading. To start with, it's about a time-traveling serial killer. (Mulholland Books, $26)
The Ocean at the End of the Lane, by Neil Gaiman
A man returns to his childhood home, where an entire history of memory is unleashed. The first adult novel from Gaiman since 2005, it's part fairy tale, part survival story, and altogether wonderful. (William Morrow, $25.99)
Lost Girls, by Robert Kolker
Longtime New York writer Kolker's recounting of the search for a serial murderer who remains at large includes interviews with those who knew the victims and an investigation into "the underside of the Internet" where the women may have met their killer. It's haunting true-life stuff. (Harper, $25.99)
QUICK NONFIC
Blue Plate Special, by Kate Christensen
Established novelist Christensen turns to the memoir form, writing about her life's intersections with food, and living well and eating well, in the grand tradition of M.F.K. Fisher. (Doubleday, $26.95)
I Wear the Black Hat, by Chuck Klosterman
Has Klosterman outdone his own Sex, Drugs, and Cocoa Puffs? If so, it may be with this cultural study focused on the author's own fascination with the American antihero, the villain. See also: Difficult Men, below. (Scribner, $25).
The Astronaut Wives Club, by Lily Koppel
The true story of the young American wives who watched their husbands being sent into space as part of the Mercury Seven mission, thereby becoming famous themselves, is as great as it sounds. Even better: Fifty years later, the ladies are still friends. (Grand Central, $29.98)
Beautifully Unique Sparkleponies, by Chris Kluwe
A clear contender for book title of the year, this is an erratic, endearing essay collection from the NFL player who famously defended free speech and gay marriage in a letter to a Maryland state politician that went viral. (Scribner, $27)
Difficult Men, by Brett Martin
GQ contributor Martin looks at antihero protagonists like the beloved and flawed Tony Soprano as well as at showrunners like David Chase and David Milch, who, difficult or not, changed the state of TV into what we know and love today. (Penguin Press, $27.95)
BANG FOR YOUR BUCK
Bobcat and Other Stories, by Rebecca Lee
There are seven stories in this collection, Lee's first, throughout which she tackles the big issues of everyday life with funny, surprising, and utterly profound results. (Algonquin, $14.95)
Don't Kiss Me, by Lindsay Hunter
The cover alone is great, but what's inside will make you laugh and scream and cringe and cry — in the best of ways, of course. (FSG Originals, $14)
Laura Lamont's Life in Pictures, by Emma Straub
Beach readers will rejoice at the paperback release of Straub's excellent debut novel about a Wisconsin native who moves to Hollywood, gets discovered, and is made into a star in the 1920s. It's a tale that's as glitzy, giddy, and seductive as its setting, but with plenty of heart and retro appeal, too. (Riverhead, $16)