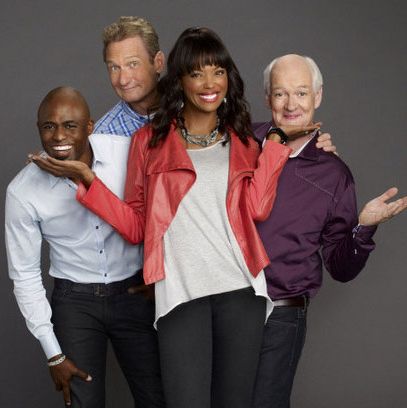 There's no more maligned comedy format than short-form improv. It falls somewhere below clowning on the respectability scale, inducing instant eye rolls from comedy geeks and making long-form improvisers shudder with disdain. It's fine; I get it — no one treasures super-schlocky one-liners. But when it's done well, short form is the quickest path between silence and laughter, and the return of Whose Line Is It Anyway? demonstrates once again how funny and joyous — and rare — spontaneity is on television.
Whose Line got its start in the U.K., and the American version aired on ABC from 1998 to 2007. (It remained popular in reruns on ABC Family through 2011.) Now the CW is reviving the series, swapping in Aisha Tyler for Drew Carey as host but keeping the rest of the show basically intact: Colin Mochrie, Ryan Styles, and Wayne Brady are all back, as is musician Laura Hall. Tyler's great, and the show is very much what it's always been. Do you want Scenes From a Hat? There's Scenes From a Hat. Helping Hands, where Colin acts as Ryan's arms? Yes. Songs, dating videos, props, yes, yes, yes. There's even a pretty good new game.
The big change is that the new incarnation feels a bit more produced, and every episode, rather than just occasional episodes, includes a celebrity guest who's not one of the improvisers. The guests are mostly not comedians (The Walking Dead's Lauren Cohan; The Vampire Diaries' Candice Accola), so they wind up just sort of sitting there while Wayne Brady sings about them — which is fine, but it's more fun when that's an audience member and not someone who gets to be on TV all the time. (The one stand-out guest is Glee's Kevin McHale, who sings and dances and plays along and is great.) New Whose Line is a little more polished, a little more corporate. Those aren't good things, really — scrappiness is part of the show's charm! — but they certainly don't ruin the series.
And how could you really ruin Whose Line? One of the reasons long-form improv doesn't translate well to television is that really good long-form looks a lot like sketch. There's no risk of that with short-form, and Whose Line in particular relies on imperfection. That's the whole premise of, say, Sound Effects, in which audience members provide the sound effects for a scene, and invariably do a terrible but hilarious job.
It's not as complicated as, oh, the dialogue on Veep, or as rhythmically perfect as a Kyle Kinane stand-up segment. That's the point, though — that messiness and absurdity and potential for chaos. Yes, the performers are incredibly talented, and the moments they nail, they nail. But I like the parts they mess up a little, the parts where they giggle or accidentally say something sort of dirty. That's in full force in this new incarnation. Well, that and the requisite bald jokes.