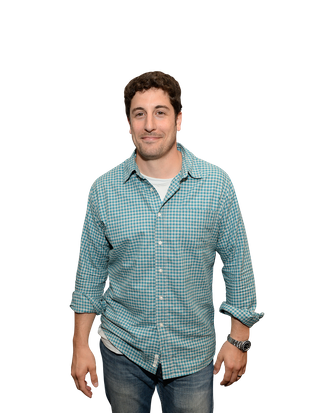 Jason Biggs.
Photo: Michael Kovac/Getty
A year ago, Jason Biggs wrote an essay for Vulture about being known as the Guy Who Fucked a Pie, and how sometimes that makes it harder for him to land parts that aren't, well, broadly comedic. But he's recently made some dramatic headway, getting an earful from Alicia Florrick on The Good Wife and landing a part in Jenji Kohan's new Netflix dramedy premiering tonight, Orange Is the New Black. In the series, which has received raves and an early renewal, Biggs plays the nice guy fiancé of a woman (Taylor Schilling) going to prison for fifteen months. (She confesses to having once transported drug money for an ex-girlfriend.) Vulture got ahold of Biggs, 35, to ask about his new show, but also about fame and being called ugly by Amanda Bynes.
Bullett just posted an essay you wrote about your anxiety over getting recognized in public.
Oh my God, that's funny. Did they put it up already? I literally gave it to them this morning, that's hilarious.
Do you ever go out in disguise?
It's funny, I was actually going to address that, but the post was already 800 words and they had asked for 500 to 750. A baseball hat and sunglasses do help because the easiest way to get recognized is by making eye contact. People could see you from afar, see your profile, hear your voice, but confirmation happens with eye contact. I will say my favorite thing in the world is when I get recognized wearing a hat and sunglasses and the person goes, "Nice try." You know what? Whatever. Twenty-seven people didn't recognize me just now, so there! You want a cookie, Mr. Recognizer Guy?
Last month you made all the gossip news headlines after you asked Amanda Bynes over Twitter if she was having a stroke. She, of course, then called you ugly. What possessed you to tweet at her?
I was following her when she started going kind of crazy, and then she tossed me this grapefruit of a tweet. I had already responded to a couple of things she wrote, like when she said, "I could never marry a German because I'm Jewish," which is just ridiculous. I made some comment, like, "All of Germany breathes huge sigh of relief," which wasn't that funny, but then she wrote something that was so incredibly unintelligible. It just made zero sense. So I was just like, "Are you having a stroke?" It's been my most retweeted and most favorite'd tweet ever. She responded twice. After she called me ugly, she said something about how I'll never have sex with anything with a vagina. At one point I was like, Oh my God, we're going to get into a fun little Twitter battle! But then I started to see a lot of the other replies to my tweet, and they were really starting to gang up on her, and I was like, Wait a second, she really is unhealthy. It's really sad. There's something really dangerous going on here. So I didn't engage. I hope she gets help, I really do.
Let's talk about Orange Is the New Black. Before Piper (Schilling) goes to prison, she makes your character, Larry, promise that he'll wait to watch Mad Men until she's out. Do we agree that that is an insane request?
My wife and I talk about this a lot, actually. It happened to us last year when I was shooting Orange. I was in New York and she had to be in L.A. a lot, so I was like, "Okay, we're Tivo'ing Girls and when I get back we'll watch them together." Then I got wind that she watched an episode without me. It was heartbreaking, like, "Oh my fucking God, you what?" But then that gave me a pass, like, Fuck it, I'm going to watch too. We figured it out eventually, but that's a real thing! We pulled through with Girls, but I'll tell you what, if she did that with Game of Thrones? It could result in divorce.
How did you "get wind" that she was watching without you?
My sister was staying with her in L.A. and we were chatting. "What'd you guys do last night?" "Oh, nothing. We just stayed in, watched Girls." "Wait, wait, wait … what'd you say?" [My wife] Jenny tried to play it off like we had talked about it before and it was okay. Um, noooo.
Larry's left out of the action at the prison. What's his story over the season?
Basically, his relationship with Piper will be tested. We'll see him with his friends and her family, trying to survive on the outside. He ends up being a victim in all this, but also playing the victim card. There are some surprises. You know, when I read the pilot, I loved it, but I was like, "Am I gonna be in this show? She's in prison. What do I do?" I think they've managed to credibly incorporate Larry's story. You need that person on the outside, or you're cooped up in the prison forever and it begins to feel too [pauses] prison-y.
Your American Pie co-star Natasha Lyonne plays an inmate. Did you get to interact at all on the show?
The prison was on this giant set in Astoria, and my visitation scenes were often in the morning and then in the afternoon is when they'd have the prison scenes with all the other actresses, so the only time I'd see them was in passing. I saw Natasha early on, though. I think we passed in the hall and went, "Hey! Whoa! This is so awesome! It's been fifteen years, holy shit!" But it's great because now we're hanging out, we're back in touch; it's awesome. We still haven't done a scene together. Maybe next season.
When you wrote about being known as the Pie Guy for Vulture last year, you said it will always be harder for you to get dramatic roles. How did you wind up with this part on Orange?
It was a normal audition process. It's actually a perfect example of what I was talking about. I don't have to go in and audition necessarily for the broad, multi-cam comedy. I got offered those, but this sort of thing I have to work harder at. I have to go after it — and I'm happy to do it. I totally understand it. I went in, read for Jenji, did a chemistry read with Taylor … and that was it. I worked for it. I mean, I really believe Jenji took a shot on me. I come with some baggage.
What's the big difference between working for a broadcast network like CBS, which aired your last sitcom, Mad Love, and Netflix?
Creatively, there's a freedom you feel. The writers and directors feel it more than we do … Netflix is pretty hands off, comparatively. Networks are in there every day with notes. Netflix is involved but way less. They're letting the filmmakers make the shows they want to make.