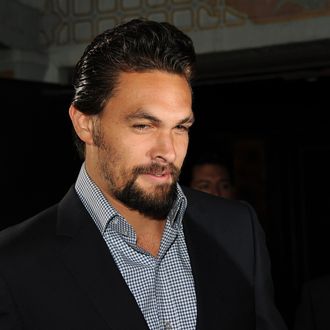 Actor Jason Momoa arrives at the premiere of HBO's "Game Of Thrones" Season 3 at TCL Chinese Theatre on March 18, 2013 in Hollywood, California.
Photo: Kevin Winter/Getty Images
Game of Thrones' Jason Momoa will star in Sundance Channel's new show The Red Road, the network announced today. The show is about the clash between a small town and its Native American neighbors in the Ramapo Mountains, plus the sheriff trying to make everyone get along — because every show has to be about a sheriff. Momoa, whom we'll forever think of as "king of the guys," will play an ex-convict who returns to the area at the behest of his father. He, of course, has long-standing beef with the sheriff, and things get tense. Sexily intense? We will have to wait and see.