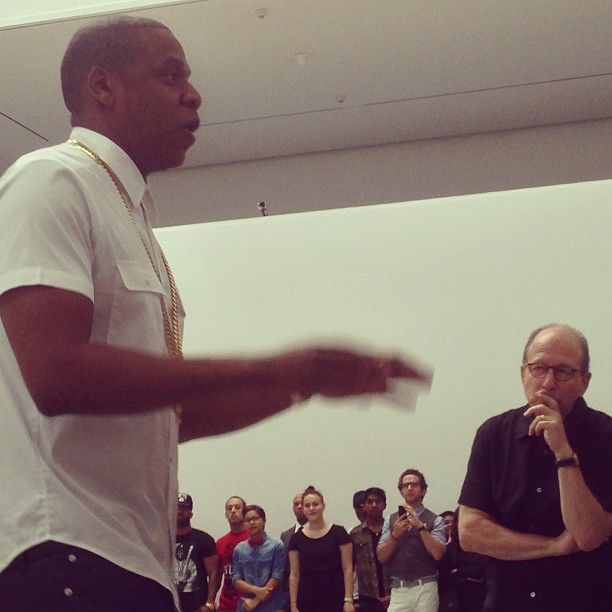 Jay-Z and Jerry S.
Photo: @hankwthomas
The invitation to the super-secret Jay-Z event came out of nowhere, three days before it was scheduled to happen. The event's producer, the beloved-in-the-art-world gallerist Jeanne Greenberg Rohatyn, e-mailed, asking whether I'd be free Wednesday at noon. The rap artist, impresario, cultural force, and art collector would be performing his new track "Picasso Baby" at the Pace Gallery in Chelsea. For. Six. Hours. Over and over and over. Heck yes. But even though I'm a fan — The Black Album blew my mind — I had a queasy feeling about this. Though hip-hop is not exactly my bailiwick, performance art I know a little about, and this Jay-Z thing sounded depressingly familiar. It had a loud echo of Marina Abramovic, the performance diva known for her marathon performances-spectacles-drudgeries. It also reminded me of the Icelandic wizard Ragnar Kjartansson's renditions of the same song performed live non-stop for hours. Last season at MoMA — which is addicted to the genre — Tilda Swinton slept in a glass box for an all-day performance. Milla Jovovich spent a day this summer living in a glass box on the roof of a palazzo on the Grand Canal as an ancillary event at the opening of the Venice Biennale. Does every celebrity have to turn into a performance-art marathoner? 
"Picasso Baby" teems with references to art. The first line is "I just want a Picasso, in my casa." The last one is "I'm the modern day Pablo Picasso, baby." The chorus repeats "Picasso baby." There are name-checks of Leonardo; the Mona Lisa; Rothko; Francis Bacon; Warhol; Basquiat by first name, last name, and tag-name SAMO. There's George Condo and of course that idiot savant Jeff Koons. Not to mention the Met, the Louvre, Tate Modern, MoMA, Christie's, and Art Basel. One of the most well-known Americans since Muhammad Ali, talking not about just Lamborghinis and jewelry but about art? The thought that this might entice kids, intimidated by museums, to give them a visit? Come on! Whether it was going to be weird, cringe-worthy, or what: I was there. 
I arrived at 11:45 a.m., expecting that the word would have leaked, and that there would be tens of thousands of people outside Pace, fighting to get in, and that the police would have to shut it down. Instead, the scene on West 25th Street was normal. I gave my name, signed a release, and went in. No clothes displaying brand names were allowed, so I couldn't wear the ridiculous GAGOSIAN baseball cap that some artist made for me as a gag. (I asked whether Gagosian was now a brand. The production assistant said, "Yes.") Just after noon, I was led into the next room, where a whole bunch of other people were waiting. A marathon performance is supposed to start and end on time — that's what makes them marathon — and this one was late. The negative queasy feeling grew. 
It really grew when I was asked by one of the producers if I wanted to be in the performance with Jay-Z. Huh? I'm a critic — I like to watch. I'm not usually in the art. Turns out that Jay-Z was going to perform the song to one person each time. OMG! Exactly like Marina's MoMA staring marathon: performer facing subject inside a large roped-off rectangle. I got sick to my stomach. One of the most creative forces of the last decades, trying to mimic another performer? And an artist? I texted my wife to say, "This thing just took a real turn for the worse." 
Around 1:15, a few hundred people were allowed into the gallery space, which was bare except for the roped-off area enclosing a platform and a bench facing it. The gallerist Bill Powers, standing next to me in the line, said "Don't you think they'd have at least gotten us a seat with a back?" and laughed.
Suddenly the first plucking funk bass notes of "Picasso Baby" began. The crowd roared, but we couldn't see anything. The artist George Condo went first, and I'm not really sure what happened then, but twelve minutes later, someone with a clipboard and a headset appeared and said "You're next." 
My heart started beating like mad. I went blank. I was led to the bench and told to sit. I heard cheering from the room, and looked around: The crowd was about half art-worlders, and half fans who'd gotten a mystery text that morning. And then Jay stepped down from the platform and stood right in front of me … and the instant before the music started, I heard these words come out of my mouth:
"I'm an art critic … so watch out." 
And then boom! The music started and he said, "I just want a Picasso, in my casa," and I replied "Picasso is great." He nodded. At Rothko I said, "Him too." He nodded again. Then his line about wanting to make love on a bed covered with a million dollars, and I said, "No." He laughed. Wow, I was getting to be an art critic to Jay-Z.
He started dancing. So did I, or at any rate what passes for an older balding Jewish man trying to bust some moves. When he got to Koons, I said, "Yes, even though he really is annoying." At George Condo I went, "Eh, okay." I gave a big no to Art Basel; at Christie's I said, "I hate auctions." By then, somehow, he'd taken me around my waist, and we were strutting around the room. My hands were ice cold. I was shaking. My reactions were shot. The entire time were together, there was no doubt in my mind that he was controlling me, taking my energy and giving it back, manipulating the space around us. I felt like my internal ship was on fire and useless. I loved it. And him. And this.
Maybe I was smitten by fame. I stayed for just about the whole six hours, and all I can say is that I don't think I saw one instance where Jay-Z was not totally there, in the moment, working the energy. Very soon, the one-on-one structure broke. He started pulling in people from the crowd, one or two at a time. But mainly it would be the song, then a minute's break; then another person would come to the bench, and the thing would begin again. I gave up on the idea that this was a piece of marathon performance art. Jay-Z was making this up as he went along. Different crowds were ushered in every 90 minutes so. Between those shifts, there were breaks of up to twenty minutes. I took only one break before it ended at 6:45, to run out and grab a quick slice of pizza and some water. By the time I got back, fifteen minutes later, the mood was as high as it had been all day, and a few people said I'd missed "the best one," artist Lorna Simpson strutting her sexy stuff. 
Ryan McNamara* used his time to break the rules and select people to stand in front of Jay-Z. In no time, he'd formed a line that Jay-Z began circling. At one point, the sound system broke down, and Jay walked to the rope and said "Anyone here have a special talent?" A ballerina got up on the platform and as he clapped his hands she — I kid you not — did a variation from Pacquita. Then a gorgeous woman with an afro sang En Vogue's "Hold On," and everyone sang along with her. 
Even they who only sat and watched were awesome somehow. Lawrence Weiner, the founding conceptual artist, sat on the bench and, true to form, did nothing. Ditto director Jim Jarmusch. Same for Glenn O'Brien, prince of old-school cool, who only mopped his brow and chewed gum. (One of those hilarious art-world moments: I heard a gallery person emerge from a group and excitedly say, "I just got my picture taken with Lawrence Weiner.") Jay-Z didn't respond to shtick — I saw him turn away almost immediately from a guy who did the held-up-lighter thing — but if anyone gave energy, he gave more. Things got meta as I watched RoseLee Goldberg dance and shoot him her hip before walking away from him with the sexiest come-hither side long glance. Even more meta: Diana Widmaier Picasso, the Spanish bull's granddaughter herself, sat down in front of him. Picasso's baby's baby.
The women (fans and art-worlders alike) were way better than the men, and the fans were the best — they really danced or went wild. I sneaked the 32-year-old doorman (a big fan) into two of the crowd seatings. Four or five times, Jay-Z motioned the entire room to "Come on in," and people rushed, but he somehow instantly created some little circle around himself and everyone bobbed. The whole thing was as tribal as it gets. Afterward, the doorman said to me, "I can die now." 
Maybe best of all was Marina Abramovic herself. When she arrived at 3:15 the crowd went silent for the first time. (Gotta hand it to her.) As the notes began, she walked toward him, taking off her belt and shoes. ("Oh God!," I fretted. "She's going to get naked again.") Then she stood with her hands at her side and her palms open, facing him. She climbed over the bench and stood that way for a moment — then, holding the pose, moved closer to him, then closer still. Until she placed her forehead on his. It was as if she was saying, "I gave you permission to steal my act; now I am taking it back." Astonishing. 
I went in doubting. I left elated. Any performer who can get a room full of strangers chanting, "Picasso baby" over and over again is good in my book. Better yet, Jay-Z even got me to actually start liking Marina Abramovic. That's art. 
* The post has been corrected; it is Ryan McNamara, not McGinness, as originally appeared.