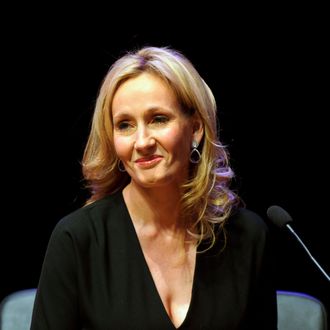 Photo: Ben Pruchnie/Getty Images
It's been a busy few weeks for J.K. Rowling, now that she's been outed as "Robert Galbraith," the author of the detective novel The Cuckoo's Calling (thanks to an overly chatty lawyer). Now she's updated the FAQ on the Galbraith website, and it sheds some additional light on the whole scenario.
"I was yearning to go back to the beginning of a writing career in this new genre, to work without hype or expectation and to receive totally unvarnished feedback," she explains. "It was a fantastic experience and I only wish it could have gone on a little longer." She's also adamant that the pseudonym and eventual unmasking were not part of a marketing plan. "If anyone had seen the labyrinthine plans I laid to conceal my identity (or indeed my expression when I realised that the game was up!) they would realise how little I wanted to be discovered," she writes. "I hoped to keep the secret as long as possible." Before Galbraith's identity was revealed, Cuckoo sold 8,500 copies — which apparently "compares favourably" with Rowling's sales when she started out.
Why the name "Robert Galbraith"? "I chose Robert because it is one of my favourite men's names, because Robert F Kennedy is my hero and because, mercifully, I hadn't used it for any of the characters in the Potter series or 'The Casual Vacancy,'" Rowling writes. "Galbraith came about for a slightly odd reason. When I was a child, I really wanted to be called 'Ella Galbraith,' and I've no idea why." Hold fast to those imaginary names, children! You too can someday use them to publish British mystery books!