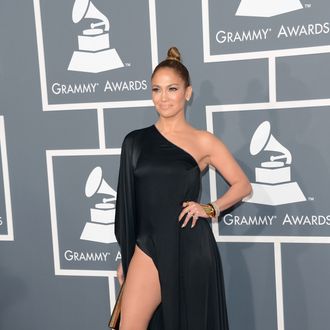 Photo: Jason Merritt/2013 Getty Images
The Human Rights Foundation is not happy with Jennifer Lopez, who drew the ire of several human rights groups last month when she gave a paid performance at the birthday party of Turkmenistan's repressive leader, Gurbanguly Berdymukhammedov. At the time, Lopez's publicist Mark Young apologized and claimed that "had there been knowledge of human rights issues of any kind, Jennifer would not have attended," but HRF president Thor Halvorssen contends that "the 'Jenny-from-the-block-who-doesn't-Google' clarification" doesn't hold up in light of her "pattern" of entertaining unsavory characters.
Halvorssen pointed to a $1 million July 2011 appearance Lopez made at the wedding of the son of Uzbek industrialist Azam Aslamov, whose guests included Chechen president Ramzan Kadyrov (Hilary Swank got in trouble for attending his birthday party in 2011.) Lopez is also said to have been paid $1.4 million to perform at the Moscow birthday party of corrupt Russian businessman Telman Ismailov. In 2012, she accepted $2.5 from the dictatorship of Azerbaijan to perform at a soccer tournament and, later that year, she was set to sing a $2 million "Happy Birthday" to allegedly corrupt Russian bureaucrat Alexander Yolkin, though the gig was canceled because Yolkin got arrested the day before the event. (Whether Lopez got to keep the money isn't known.) Lopez's representatives have not commented on the nonprofit's criticism of their client, possibly because they're finally doing a more thorough Googling of any upcoming overseas commitments.