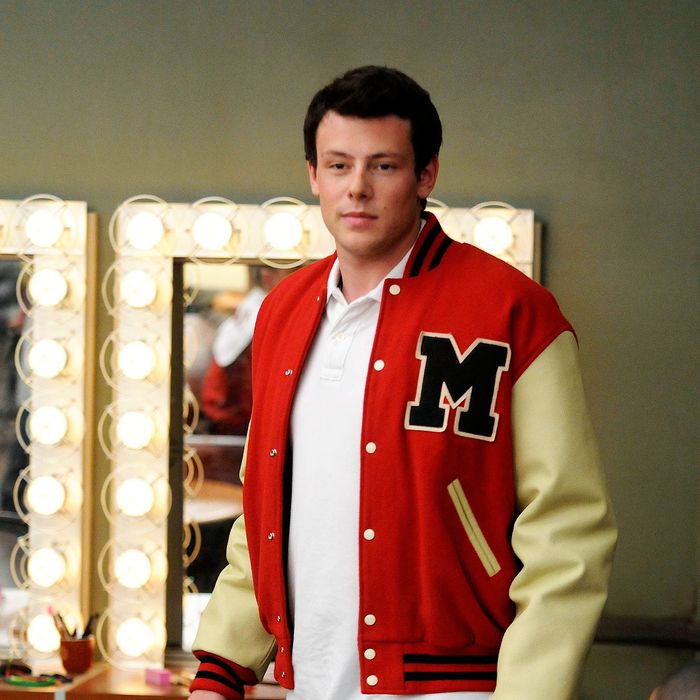 Cory Monteith, who died Saturday at age 31, played a nice guy on Glee. Apparently, it wasn't a stretch. Monteith was from Victoria, British Columbia, and he looked, and acted, like an American's idea of a Canadian dude: tall, a bit gawky, sweet, guileless. He wasn't exactly an innocent, though. He dropped out of school when he was 16 and struggled with drug addiction. He did a stint in rehab he was 19; when he got out, he played drums in bands and worked a series of jobs, as a roofer, a school bus driver, a Walmart greeter. He began acting while he was still living in Canada; eventually, he landed some bit parts on TV shows. (He played a "Frat Cowboy" in a 2005 episode of Smallville.) In the audition tape that won him the role of Finn Hudson on Glee, he performed a drum solo on coffee mugs and Tupperware.
Monteith had never sung before Glee, and it showed. It didn't matter, though. Finn was a hunk-with-a-heart, the high school quarterback who joined the glee club because he just had to: gotta sing, gotta dance! Monteith's awkwardness worked. He had a galumphing charm.
Glee itself long ago exhausted its modest charm; how, or if, it will survive Monteith's death remains to be seen. But Ryan Murphy's show will go down as a defining artifact of early twenty-first-century popular culture. Along with American Idol and Lady Gaga and K-Pop and fun., Glee stands for the mainstreaming of a camp gay sensibility and the resurgence of Broadway as a shaper of Top 40 pop. As much as anyone, Monteith's Finn summed the delicious vulgarity of Glee at its finest. He was the beauhunk who plodded through production numbers with toothy gusto and not a trace of irony. You can see it in the best sequence ever filmed for Glee — the only three minutes of Glee you ever need to watch, when you get right down to it — the finale of the pilot episode, which premiered on Fox on May 19, 2009.
The scene is the auditorium of William McKinley High, where the misfits who make up New Directions, the school's glee club, have gathered to rehearse a new number, Journey's "Don't Stop Believin'." New Directions wear matching red tops, blue jeans, and black sneakers, but demographically, they're a motley bunch. There's Tina (Asian), Artie (wheelchair-bound), Kurt (scrawny, gay), Mercedes (chubby, African-American), and the pretty duo who share lead vocal duties on "Don't Stop Believin'." There's Rachel, a fearsome little diva with a Barbra Streisand fixation, and a voice — and schnozz — to match. And there's Finn. The performance begins quietly, as New Directions wordlessly chirp the song's opening chords, barbershop-style. Then Finn lumbers forward to sing the first verse, and hell is unleashed.
Fists are pumped; arms are thrust skyward; jazz hands swoop menacingly into view. The singers bop and shake, while their eyes blaze and faces twist into maniacal rictus grins. There is choreography, of a sort. At one point, Tina twirls Artie in his wheelchair as he rips a solo on a Fender Stratocaster.
Mostly, though, there's the sound and fury of voices raised in full-throated song. The most emphatic belongs to Rachel, whose tiny torso conceals lungs the size of spinnakers, and Finn, who can't sing a lick but does it loudly. "Streetlight people/Livin' just to find emotion," they cry. "Don't stop believin'!/Hold on to that feeling!" Who could doubt the power of their emotions, the sincerity of their belief, the depth of their feeling?
"Don't Stop Believin'" is one of the great schlock-rock anthems, but Glee's version steers the song away from rock, and beyond schlock. You want to snicker at it, or to snicker along with it, but the impulse is stymied by the ferocious earnestness and commitment of the performance. In fact, performance seems too mild a word for this spectacle. Glee's "Don't Stop Believin'" is an assault: on the senses, for sure, but also on history — on the decades of popular culture that have intervened since Ethel Merman last dragged herself across a Broadway proscenium.
My favorite moment comes around the two-minute mark, when Finn plops down behind the drums, pummels the snare and hi-hat for a couple of measures, then races back to center stage. For a moment, the drum kit is unmanned. The beat, of course, never stops.