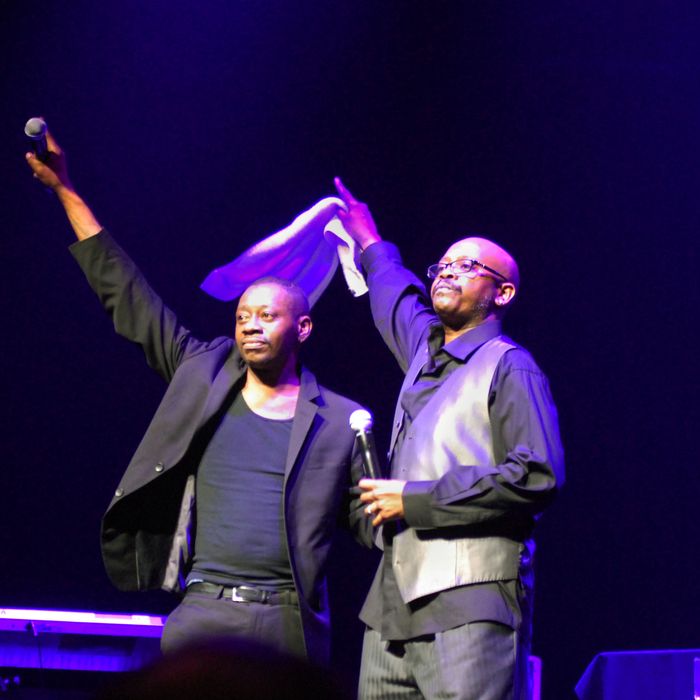 Photo: Elgin Edmonds-PNA / Splash News/Corbis
K-Ci & JoJo, "Knock It Off"
The first single in over a decade from brothers Cedric "K-Ci" Hailey and Joel "JoJo" Hailey, two fourths of nineties boudoir R&B giants Jodici, wafted into earshot last week, in a billowing cumulonimbus of Spanish Fly fumes. "Knock It Off" is a modest nostalgia trip; it's also an antidote. It doesn't sound dated: The production is crisp, unobtrusive, contemporary. But in an age when R&B has largely forsaken innuendo for straight-up porno, K-Ci & JoJo's entreaties ("I'm gonna take to my room and lay you down" etc.) have a quaintly chivalrous ring. And at a time when it's become fashionable among R&B men to stir angst into their booty call anthems, K-Ci & JoJo's unambivalent ardor — their throaty soul-shouting and rampant melisma — is refreshing. It's not just sex: It's joy of sex.
Beck, "I Won't Be Long"
"I Won't Be Long" is prime Beck: a neatly contoured little pop song, built around tensile guitar vamp, that gets more freaky, more interesting, as it progresses. (Listen to the breakdown at the 2:15 mark.) Beck is one of the few musicians on earth who knows how to make "psychedelia" sound like pop, who rewards close attention and a good pair of noise-canceling headphones. Reportedly, there is a fifteen-minute extended mix of "I Won't Be Long" on the B-side of the vinyl single, which arrives next week. That's the version I want to hear.
Kali Mutsa, "El Jardin"
Celine Reymond, a singer and actress of French-Chilean extraction, puts out records under the name Kali Mutsa, with a big helping hand from her bandmate, the Chilean producer Cristobal Montes. I can't decide whether I hate or am merely mildly irked by the rapping on "El Jardin," the latest single by the Santiago-based duo. I do know that it doesn't mater: I like the song despite — or is it because of? — Reymond's vocal nattering. Like many of Kali Mutsa songs, "El Jardin" reimagines bubblegum as a wild-eyed fusion of electro, Latin pop, Andean folk, Balkan oompah, and, undoubtedly, several other styles. It's colossally perky music; imagine Reymond's rapping as merely another wacky sound, whisked into Kali Mutsa's mix, and you may even learn to love it.
RiFF RAFF, "Dolce & Gabbana"
More ebullient absurdity from Houston's greatest Dadaist. The trap-style beat, from D.J. Carnage, booms and bounces. RiFF RAFF's boasts, as ever, are sublimely ridiculous: "I'm outside eating fried okra / With who? / With Oprah."
Annie, "Back Together"      
Annie, the Norwegian pop singer, is such a featherweight vocalist — you worry that a firmly struck synth chord might blow her straight into a fjord. But she makes lightness an asset. Her new song, "Back Together" is wispy and sweet in a way that feels classic, evoking fifties malt shops, eighties discotheques, and, well, Annie records from 2004.