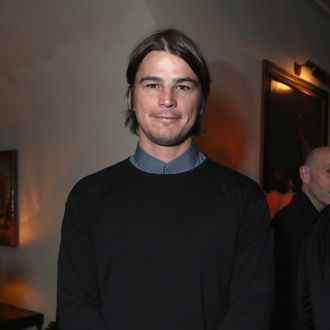 Photo: Alexandra Wyman/Getty Images
Showtime made a few announcements today following the network's TCA panel. Here are the biggies:
Josh Hartnett and Eva Green will star in Penny Dreadful. (Note to programmers: Don't put negative adjectives in your titles! Even if the show is great, you are guaranteeing 100 terrible pun headlines. "Penny Dreadful Really Is" or "Penny Dreadful Is Anything But" are both on the horizon.) Anyway, the drama, which should premiere in 2014, stars Hartnett as a phony American cowboy in Victorian London who falls in with mysterious society lady Eva Green. Before you roll your eyes too hard, the show was created by John Logan, and Sam Mendes is one of the producers. And it's maybe kind of like The League of Extraordinary Gentleman.
Philip Seymour Hoffman's pilot got picked up. Duh. Trending Down starts filming in the fall.
Alice from Luther will star in The Affair. Yay, Ruth Wilson! (She was also in The Lone Ranger. Eesh.) In The Affair, she'll play a pancake-house employee "trying to piece her life back together after a tragedy," according to Showtime's release. Enter Dominic West, who "makes [her] question the choices she's made." They totally have the titular affair.
Stockpile tissues for the new documentary series Time of Death. The show will follow different terminally ill people in the final days of their lives.
There might be a Dexter spinoff in the works. Showtime announced a two-year deal with Scott Buck, Dexter's current showrunner, and network president David Nevins said "of course" they were looking into a possible Dexter spinoff. Stabby!