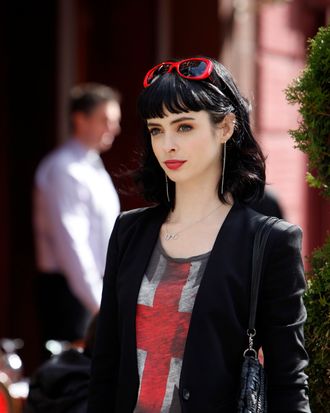 DON'T TRUST THE B—- IN APARTMENT 23 - After a naïve Midwestern girl's big city dreams are dashed her first week in New York, she finds herself living with her worst nightmare in this hilarious, contemporary comedy about a female odd couple who are surrounded by an outrageous cast of characters. "Don't Trust the B—- in Apartment 23" stars Krysten Ritter ("Breaking Bad," "Gilmore Girls") as Chloe, Dreama Walker ("The Good Wife," "Gossip Girl") as June, Eric André as Mark, Michael Blaiklock as Eli and James Van Der Beek ("Varsity Blues," "Dawson's Creek") as James Van Der Beek. Created and written by Nahnatchka Kahn ("American Dad"), "Don't Trust the B—- in Apartment 23" is executive-produced by Kahn, Jason Winer ("Modern Family"), Dave Hemingson ("American Dad," "How I Met Your Mother") and Jeff Morton ("Modern Family"). Winer is also the director. "Don't Trust the B—- in Apartment 23" is a production of 20th Century Fox Television. (ABC/PATRICK HARBRON) KRYSTEN RITTER
Photo: Patrick Harbron/? 2011 American Broadcasting Companies, Inc. All rights reserved.
Dustin Hoffman's 32-year-old son Jake is readying Asthma, his directorial debut, and he's landed Don't Trust the B—- in Apt 23's Krysten Ritter as his star. The film will detail "the consequences of the live-fast, die-young mentality in NYC's indie rock scene." Since that tells us next to nothing, we might as well start wondering if Ritter will front a band, bartend at the Music Hall of Williamsburg, play publicist to some faux Strokes, or what. Also worth guessing about: a potential D. Hoffman cameo.