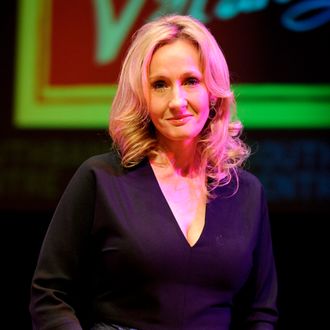 Photo: Ben Pruchnie/Getty Images
Over the weekend, the world found out J.K. Rowling had secretly written a well-received though not widely read mystery novel, The Cuckoo's Calling. The Sunday Times pursued the story after a tweet from a quickly deleted account tipped them off, and things unraveled from there. But one puzzle piece remained: Who was that tweeter?
Now we know: a Surrey woman with no real connection to Rowling. She is, however, apparently best friends with a woman whose husband is a partner in the British law firm Russells Solicitors — a law firm that represents Rowling. (Well, at least they used to.) The firm said in a statement:
We, Russells Solicitors, apologise unreservedly for the disclosure caused by one of our partners, Chris Gossage, in revealing to his wife's best friend, Judith Callegari, during a private conversation that the true identity of Robert Galbraith was in fact JK Rowling.

Whilst accepting his own culpability, the disclosure was made in confidence to someone he trusted implicitly. On becoming aware of the circumstances, we immediately notified JK Rowling's agent. We can confirm that this leak was not part of any marketing plan and that neither JK Rowling, her agent nor publishers were in any way involved.
Rowling also released a statement. "To say that I am disappointed is an understatement," she says. "I had assumed that I could expect total confidentiality from Russells, a reputable professional firm, and I feel very angry that my trust turned out to be misplaced." Mystery solved! Though there is one new mystery: Why can't anyone keep a darn secret?