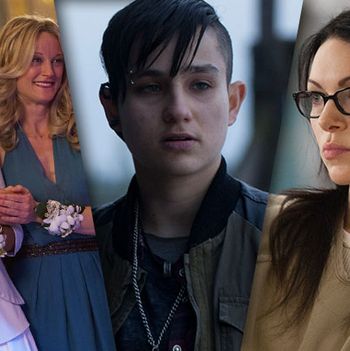 Photo: ABC Family, AMC and Netflix
I burned through every episode of Orange Is the New Black in 48 hours. I'm giddy on Mondays to watch The Fosters. I've even endured another summer of The Killing. Under the Dome, Mistresses, Pretty Little Liars — look around, friends! This is a great summer for lesbians on TV.
We're at a point now where tokenism or generic representation isn't enough. What's special about this summer is the range of lesbian characters we're seeing on TV: from super femme to super butch, Kinsey sixes and Kinsey ones, monogamous and non-monogamous, young and old. Orange Is the New Black is the new high-water mark for shows with prominent lesbian characters. (The L Word was the former standard bearer). There's the kooky-funky poor little rich girl Nicky (Natasha Lyonne), the sultry drug queenpin who used to rock pinup-style bumper bangs (Laura Prepon), the unpredictably poetic Crazy Eyes (Uzo Aduba), and the megabutch Big Boo (Lea DeLaria). The Killing, despite its myriad other flaws, also introduced a rarely seen lesbian type: the gutter punk baby butch Bullet (Bex Taylor-Klaus). Sadly, Bullet was killed on last week's episode, but that does not diminish her impact as a character and as a presence on TV! We saw her face homophobia, transphobia (even though she wasn't trans, her style was perhaps gender non-conforming), sexual assault, and constant marginalization — and then she was murdered by a serial killer.
ABC Family has a solid lesbian contingency, too, between Emily on Pretty Little Liars and the moms on The Fosters. While Emily's story at this point operates like any hetero romance would on a teen soap — will we go to the same college? etc. — the relationship between Stef (Teri Polo) and Lena (Sherri Saun) on The Fosters is more unusual. For starters, they're an interracial couple, which is still a rarity on television. But this week's episode brought up the fact that, despite raising three children together (plus fostering two more), owning a house, and being partners in every conceivable way, Stef and Lena aren't married. And not because of legalities. They're not married because Stef does't want to be — she was married to a man previously, she says, and look how that worked out.
It's interesting to watch the push-and-pull between Stef and Lena, the way they negotiate queer politics within their relationship. Does Stef experience lingering straight privilege because she was married to a man and is the biological mother of one of the sons she and Lena are raising? That's not a conversation that's present elsewhere on television. That said, they're not the only interracial lesbian mom couple on TV right now. Under the Dome has Alice (Samantha Mathis) and Carolyn (Aisha Hinds), who are raising teenager Norrie — though obviously being trapped under a dome is their most pressing concern.
Elsewhere, Mistresses has the sexually rambunctious Joss (Jes Macallan) deciding to date a woman — a little Samantha Jones redux, but that's not inherently a bad thing. Tara (Rutina Wesley) and Pam (Kristin Bauer van Straten) on True Blood have been tragically kept apart for most of the season in the Holocaust-ish "vamp camps," but it seems clear we're looking at a major reunion in the next few weeks. This is cheating a little on my part, but Orphan Black, while not currently airing, did just come out on DVD — and features science geek Cosima. She's one of ten clones, but she's the only queer one among them, which raises some nature-vs.-nurture questions within the show.
Moving forward, it would be nice to see more racial diversity and more body diversity, but that's true of television in general, and true of roles for women in general. But for now, just for this summer, just at this moment, this kind of feels like progress.