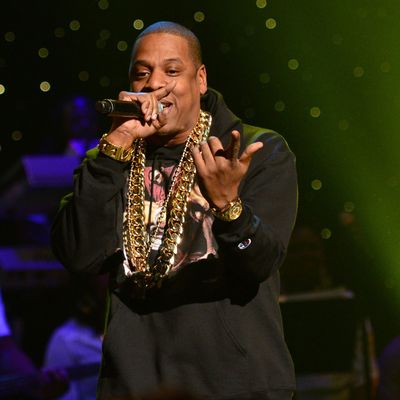 Photo: Prince Williams/Getty
Jay-Z has been comparing himself to Frank Sinatra for years now, and in at least one respect, the analogy is apt. Nearly two decades and a dozen studio albums into a career that by any reasonable measure is the most illustrious in hip-hop history, Jay-Z, like Sinatra in his prime, is a vocal stylist of unearthly skill, whose performances astound as music qua music. You can hear it on album No. 12, Magna Carta … Holy Grail: Jay's Sinatra-like flair for making lyrics sound conversational, as natural as speech, while maintaining a wizardly command of rhythm and timbre and melody and dynamics and color — the minute shading of lines, for dramatic and/or purely musical effect. Listen to the dancing rhythmic attack of the album opener, "Holy Grail," where Jay skitters and weaves, packing syllables around Timbaland's bristling beat. Or listen to "Somewhere in America," to the shit-eating grin that sneaks into the rapper's voice as he glories in his net worth: "1 million, 2 million, 3 million, 20 million / Oh, I'm so good at math."
Of course, virtuosity is what we expect from a Jay-Z album. What we hope for is more: a little magic, a bunch of knock-your-socks-off songs, something bigger than a master merely excelling at his craft. I count four great albums in the Jay-Z discography, and in each case the rapper was stirred by special circumstances, a sense of occasion. There's his 1996 debut, Reasonable Doubt, a tyro's statement of purpose; there's The Blueprint (2001) — still his best, pound-for-pound — recorded by an embattled Jay-Z, who was facing criminal charges in two separate trials and engaged in ongoing rap feuds with Nas, Prodigy, and Jadakiss; there's The Black Album (2003), the putative retirement record; there's Watch the Throne, the grand, grandiose 2011 royal conclave with Kanye West.
Magna Carta … Holy Grail is not a great Jay-Z album. It's a solid record, bolstered by luxury-grade beats (Timbaland, Pharrell, Boi-1da), by a sprinkling of good songs and a couple of great ones. It's too long; it often feels glib. It includes dopey interpolations of "Smells Like Teen Spirit" and "Losing My Religion," and some embarrassing lyrics about modern art. Unlike the season's other big rap release, Kanye's Yeezus, it's not an important record, not an event album, though Jay clearly wants it to be. In fact, it's a pseudo-event album. Its arrival was heralded by the blare of an international marketing campaign — by the news that Samsung, the South Korean conglomerate, had prepurchased a million copies for its smartphone owners, shelling out, in effect, for the privilege of leaking the album to the Internet, where it was downloaded by millions of non-Samsung subscribers, including grateful music critics.
The Samsung stunt may not quite represent, as the hashtag puts it, the #newrules. But it was a business coup, and for Jay-Z, that could be fodder enough: Capitalism, after all, is his muse. On Magna Carta … Holy Grail, he brags about the Samsung deal ("A million sold before the album dropped") in a verse that also shouts out Ol' Blue Eyes ("Frank Sinatra on my Sonos / Loud as fuck, I did it my way"), and boasts about the Lexus the rapper copped in his drug-dealing days. We have returned, in other words, to Jay-Z's favorite subject: his own bootstrapping rise from Marcy Projects dope peddler into "a business, man," with Basquiats on the wall of his kitchen and pockets deep enough to buy, in cash, the manors of the to-the-manor-born.
On Watch the Throne, Jay-Z managed to connect his oft-told American Dream tale to bigger ideas, linking the gaudy materialism of "luxury rap" to broader questions of politics and class and race. He tries to repeat the trick on the new album, dragging out the usual gilded trappings — haute couture, jet-set travel, Picassos and Warhols, Bordeaux and Burgundies — and setting them against some meatier conceptual stuff. "Oceans," a Timbaland-Pharrell co-production with a somber vocal from Frank Ocean, finds Jay on his yacht, quaffing Champagne and pondering slavery and the Middle Passage. In the brisk two and half minutes of "Somewhere in America," he pulls together cocaine dealing, nouveau riche gate-crashing, class snobbery, and black cultural conquest of the American mainstream, culminating in a quip for the ages — "Somewhere in America, Miley Cyrus is still twerking" — that takes in all of the above.
The American icons who pop up on the Magna Carta … Holy Grail lyric sheet include not just Cyrus and Sinatra, but Christopher Columbus and George Washington and Elvis Presley and Barack Obama. As "texts," Jay-Z's latest offerings will undoubtedly have a long life, fueling American Studies seminars for decades to come. As songs, though, they're often unpersuasive. Tracks like "Oceans" feel hastily sketched, slapdash — interesting ideas that the rapper couldn't quite be bothered to flesh out. The most awkward moments are those where Jay blunders into soul-baring Kanye territory. Jay-Z's psychic temperature has been cool-to-chilly; he's at his most comfortable when he plays the untouchable braggart — the guy who has to let the song cry, because he can't go there himself. These days, he's trying to make room for more emotions, and more emotionalism: rapping about his parental ambivalence in "Jay-Z Blue (Daddy Dearest)" and the spiritual toll of his drug-slinging past. The results are not convincing. "Sometimes I feel survivor's guilt," he raps in "Nickels in Dimes," sounding not the least bit guilty.
Jay-Z is brilliant, but he's not exactly deep; pathos will never be his bag. Still, you can't blame the guy for trying to shake things up. It's worth recalling that when Jay-Z retired in 2003, he cited boredom and creative constipation. ("What more can I say?" he asked on The Black Album.) There's little evidence that he's become less bored in the decade since. He's done everything he can think of to keep the juices flowing, from overblown soundtrack albums like American Gangster (2007) to, God help us, collaborating with Linkin Park. He's still a great live performer; occasionally, he rouses himself to spit some dope verses, or to record a great song. But this is a guy who knows that he can mail it in and still whip most of the competition.
Magna Carta … Holy Grail is, by my rough estimation, at least 50 percent mailed-in. The best way, in my experience, to listen to this half-assed record is to half-listen: blast it while you're sorting the laundry or making dinner or, better yet, dancing. My favorite song is "BBC," where Jay-Z and erstwhile rival Nas rap over a festively funky production from Pharrell. On the music qua music index, Jay's verse ranks with his very best — a flood of interior rhymes that he pours over beat in a casually dazzling display of breath control and swing. The words themselves aren't much, the usual litany of jewelry and cars with flatscreens in the headrests and, yep, Basquiats. What more can he say? If we're being honest, not all that much. But he says it so well.