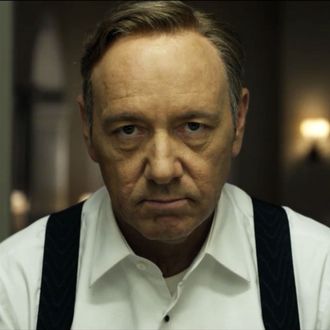 Netflix today became the first digitally distributed outlet to score an Emmy nomination in the series categories, with House of Cards landing one of the Best Drama slots and Arrested Development's Jason Bateman earning a nod for Best Actor. This is a big deal: The TV Academy didn't even allow cable shows to be nominated for Emmys until 1988. Once it did, it was five years before HBO's The Larry Sanders Show became the first cable show to get a series nomination, and fourteen years until Michael Chiklis became the first actor to win an Emmy for a basic cable show.
Netflix managed to land a whopping fourteen nominations in only its second year of streaming big-budget scripted shows (Lilyhammer was eligible last year). Not surprisingly, Netflix's chief content officer, Ted Sarandos, is very, very happy about this development. "Big change usually comes very slowly," he told Vulture today. "House of Cards, the way it came together, releasing all the episodes at once … those are big changes. A single nomination in any category would have been a victory." Instead, House and Arrested both landed in the big categories, while horror series Hemlock Grove got some tech noms.
Sarandos does not deny Netflix wanted these nominations, not that he really could, given the aggressive Emmy campaign it launched. "We went after it, for sure," he says. "We did everything you're supposed to do, and I think we did it well — including the facilitation of the creation of great television." Just as HBO and Showtime use their Emmy hauls to build their brands as quality entertainment hubs, Netflix should also benefit from the TV Academy love. "Netflix has always been about high-quality entertainment, and this should be a reinforcement of that," Sarandos says. "When [consumers] are sitting down to watch TV, we're another channel to watch." And what of those industry veterans who might be quietly grumbling today that Netflix really isn't "TV," at least not in the way it's been defined for the past 60 years? Sarandos has no use for this argument. "Television is determined by what's on the screen, not how it got there," he says.