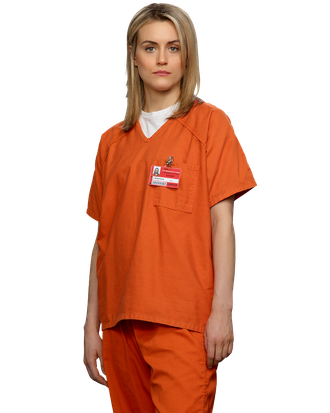 Taylor Schilling.
Photo: Jill Greenberg/Netflix
Before Orange Is the New Black, Taylor Schilling had starred in The Lucky One opposite Zac Efron, the little seen Atlas Shrugged, and the short-lived NBC nurse drama Mercy. At last! Success! Critics are loving Jenji Kohan's new Netflix prison drama, adapted from Piper Kerman's memoir of the same name, in which Schilling plays Piper, a Waspy organic-soap-maker who is busted for smuggling drug money several years after the fact. The actress talked about the show's filthy sets (which are actually filthy!); working with Jodie Foster (who directed the season's third episode, "Lesbian Request Denied"); and how Crazy Eyes's eyes are in real life. We also asked her about Mendez (a.k.a. Pornstache), who is grotesque, but apparently not far off from the guards who mistreated the real-life Piper.
Silly question first: Did you really cut a chunk of your hair for the show?
Ooooh, haaaa! No, I didn't have to do that. I wore an extension, like a clip-in weave, for about three months.
I only ask because in the posters for the show, it looks like you are wearing a horrible wig. Very stiff.
I agree with you! I actually made that comment before I approved the posters — and clearly no one listens to me. My voice does not go very far. That was my hair, and that's what was going on. It just looks like I'm a politician's wife [laughs]. It looks like I have a bouffant, let's be honest.
The real Piper was on set while you were filming. In what ways was she a resource for you?
One thing I thought was really interesting is she talks about how noisy prison is, and how because the surfaces are so hard, there's nothing to absorb the noise. The lights never shut off while you're sleeping. So you never rest the same way, your body never settles the same way it can outside. She also talked about how maddening it is to live with such a neutral palette. You don't see color! Everything is taupe. No color for however long you're in there.
Right, and in the show, your character, Piper, is dying to get out of the orange. Once she puts on the beige, it's worse to look at.
Orange is not my favorite color, but I'd prefer it to the taupe. And that's the only way you can describe it: It's taupe. Not even beige. It's that weird word, taupe.
I know it's a set, but it looks convincingly filthy. Was it?
Absolutely. It was disgusting. Absolutely foul. The thing that I can't handle is … I've spent so much time just barefoot, naked, and shivering in the fucking bathroom [laughs]. Oh God, it was so awful. I mean, thanks be to God, I'm not really in prison, so it is "clean." I mean, I'm trusting everyone that it's clean. They told me it was. They might have said it just to shut me up. Like, "Everything's fine. We've swept the set." But by virtue of what it is, it's not particularly super clean in the first place. There are like 150 people tromping through those sets.
Both Jodie Foster and Andrew McCarthy directed episodes of Orange —
You wanna bring the eighties back, don't you?
Well, yeah!
They're amazing. In all seriousness, Jodie Foster was truly a dream. It felt overwhelming in lots of ways when she was there. She's as extraordinary to work with as an actor as you'd imagine, or that I'd imagine. Really, really blown away by the experience. I'm a fan of Andrew, too. He was incredible.
Jodie directed the third episode, which included Burset's backstory about becoming a woman and all that business with Crazy Eyes —
Where she peed on the floor. My brother sent me the most ridiculous text. He was like, "Did that really happen?" I was like, "Sam, answer the question yourself. What do you think, brother?" Yeah, we gave her a lot of water and said, "Relax."
Sounds like sound advice from Jodie.
[Laughs.] They actually had a fun rig set up for that scene. I do hope I get to work with Jodie again. Something she's really good at is making everyone feel very safe. She really encouraged me that the choices I was making were working. That's invaluable, because as soon as you feel like you're doing okay, you can expand into it. She gets how actors' brains work.
Let's talk about Crazy Eyes's crazy eyes — are they always that crazy?
She has a magical ability to bug her eyes out for the camera. She's a-ma-zing. I hope she'll be my prison wife forever.
I also want to talk about Mendez, who I find to be so one-note awful so far (and I am seven episode into the season). Most of the male guards are. Did you find that to be the case in real life while you were researching your role?
I didn't spend a lot of time with prison guards, but my father was an assistant district attorney for a long time so I was always hearing stories about prisoners and prison guards. It wasn't that foreign to me that correctional officers are not always on their best behavior. That was familiar territory for me. I know that it was a big part of Piper's experience, though, how poorly prisoners are treated and how there was really no method of recourse. I think it was even worse than it's portrayed on our show.
Have you binge-watched anything on Netflix? Orange, maybe?
No. No, no, no, I can't. I've seen the first episodes. I'm really proud of the show, but my head is already in next season. I can't quite go back and mess around with that. I'm already in what we're about to start shooting next week.
What about other shows?
I watched Downton Abbey in a week. All three seasons.
Does the rewind function bug you?
In what way?
I find it tough to get back to certain spots.
I hear you, I hear you. I haven't experienced that as much, but I can take it to the higher-ups now!