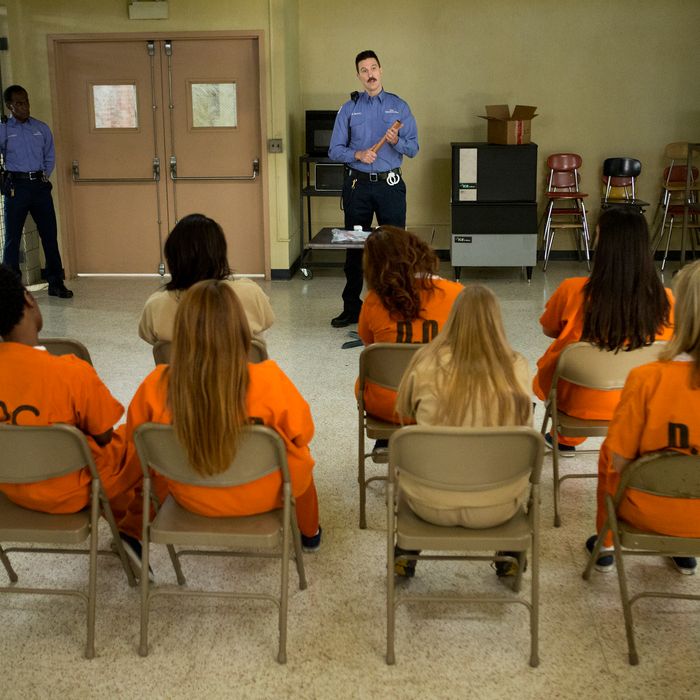 No matter how far along you are in the series, Orange Is the New Black is most likely already one of your favorite new shows. You're not alone! It's a Vulture favorite this summer and we went ahead and compiled a list of random yet interesting OITNB-related tidbits.
Laura Prepon originally auditioned to play Piper.
Instead, she ended up with the role of the more dangerous and alluring Alex. "She set the bar, when she auditioned for Piper," creator Jenji Kohan told Collider. "She's such a great actress, but ultimately, I thought, 'Laura Prepon in prison? I don't worry about her.'" Kohan and crew liked the audition so much that they tailored the role of Alex to her.
Matt McGorry, who plays nice-guy guard John Bennett, is reaaaaaallly into body building.
Really, really into it. Super into it. Into it enough that this is a video of him:
Jodie Foster directed the third episode, "Lesbian Request Denied."
Foster is developing a mob drama at Showtime, and apparently she wanted to dip her toe into the TV waters before her series went into production. "When Jodie Foster says 'I wanna do this,' you say 'yes,'" Kohan told Hitfix. "So she came to us and I think we were sort of her dry-run for when she does her television thing." Andrew McCarthy also directed three episodes.
Pornstache is The Wire's Nick Sobotka.
Pablo Schreiber, who was also Nancy's Russian mobster dude on Weeds, is both the vile guard known as Pornstache and the HBO show's desperate dockworker.

Lorna is Australian.
Yep, Yael Stone is from Australia. (Lorna's the one who's busily planning her wedding.)
Laverne Cox, who plays Sophia, is a big-deal trans activist.
You might remember her from 2008's I Wanna Work for Diddy, or the VH1 series she produced and starred in, 2010's TRANSform Me.
Yoga Jones is also the voice of Patti Mayonnaise.
You might recognize Yoga Jones, played by Constance Shulman, as Missy from Fried Green Tomatoes, but there's something else. If Shulman's signature voice seems to recall your childhood, it's because she also played the object of Doug Funnie's affection: Patti Mayonnaise. Unrelated, she also was in a commercial for Kraft Low Fat Mayo:
Larry actually wrote a Modern Love column.
Despite the host's very Ira Glass–y vibes, Larry's appearance on "This American Life" knockoff Urban Tales wasn't based on reality. The real Larry Smith never appeared on "TAL," though he did write about his and Piper's long-distance relationship in the New York Times.
Episode seven's bartender is Caitlin from Nickelodeon show Caitlin's Way.
Formerly the angst-ridden teen who movies from Philadelphia to live at youth detention center in Montana, Lindsay Felton appears briefly as the bartender who cautiously flirts with Larry.

Jenji Kohan sneaks in a Weeds-related Easter egg.
During a flashback to Piper and Larry's first introduction, she walks in on him watching TV at their mutual friends' apartment. Naturally, it's an episode of Weeds, Jenji Kohan's previous show.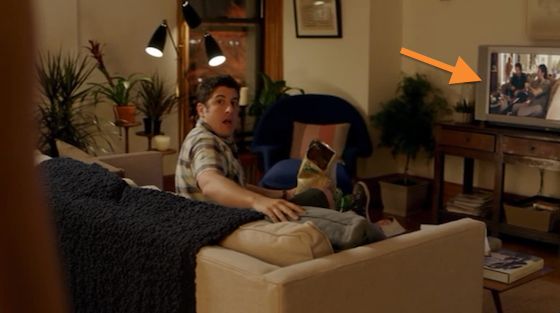 … And an American Pie one, too:
(Thanks, Reddit!)