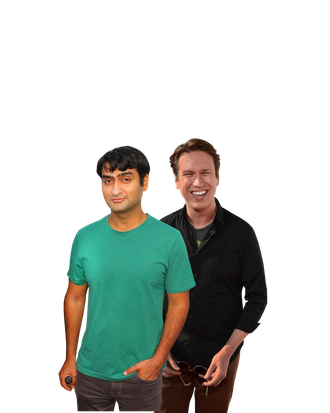 Kumail Nanjiani and Pete Holmes.
Photo: Mark Davis and Imeh Akpanudosen/Getty
It's an exciting time to be Kumail Nanjiani. He recently had two pilots picked up: Silicon Valley, Mike Judge's HBO comedy that he's a series regular on, and The Meltdown, a Comedy Central stand-up show based on the weekly L.A. live show he hosts with comedian Jonah Ray. (He also appeared in Craig Robinson's NBC pilot, which didn't get picked up initially, but is still in contention for a late series order.)  This Saturday at midnight, Nanjiani is going back to where it all started, stand-up, with the premiere of his hour-long Comedy Central special, Beta Male. To mark this occasion, we got comedian Pete Holmes, host of the upcoming Pete Holmes Show on TBS, to interview his friend of many years. In addition to starting out together in Chicago, they actually taped their respective specials over the same week in Austin last October. Here, they discuss wearing hoodies, stand-up as a "no parents zone," and much more.
Pete Holmes [doing an exaggerated Kumail impression]: Hey, Kumail.
Kumail Nanjiani: Hey, is it going to be this voice the entire time?
No, because you can't read my impressions in an interview. If it was an audio interview, I'd do it as you the whole time and it would be vaguely racist.
They can just imagine that it's probably pretty racist.
It should say after each of my questions in italics, "in a somewhat racist voice that's, you know, predicated on the fact they've been friends for over a decade."
So it's okay!
Well, I guess we're supposed to focus on your special. You wore a hoodie because you're cold-blooded, because you're from Pakistan.
See? There it is. I did wear a hoodie and I regret it. It looked a little too casual. I wish I'd dressed a little more formal.
Really? I envied it. I wore just a button-down shirt and was sweating. While you, not necessarily because you're from Pakistan, were cool as a cucumber under the lights.
I wish the print could convey how well you're pronouncing "Pakistan" right now. Have you've been practicing? It really is just how my mother says it. But, yeah, I wish I looked a little more formal. I just looked how I always kind of look. But you wear a suit on TV; it looks good.  
I get that. I'm not going to make this about myself, but when I was doing my talk-show pilot and was dressed really well, I was like, Yeah, I get this. We're grown-ass men; we shouldn't be wearing silly children's clothing.
Yeah and Letterman, if you don't wear a full suit and tie when you do his show he gets really upset.
Oh, that's right you wore a full suit for Letterman, so you know the feeling.
Also, I wore the same outfit on the cover of the CD as I did on the special. Not even all of it, just the hoodie is the same. It's really dumb. It's not even like I'm going for wearing the same outfit, I just happened to wear one of the same things. I'm looking at it right now like, Jesus, really? That same hoodie? I had a four-month love affair with that hoodie and both these things happened during that time.
That's like the Craig Robinson bit: Don't you hate it when someone shows you a photo of you and you're wearing the same outfit as you are in the photo.
Yeah, like your driver's license. You have to retire that shirt.
Your special's called Beta Male.
Yeah.
I thought you didn't like that name. I was really into it and then I thought you didn't want to do that one.
No, I liked it; I just overthought everything about the special. It was my first one, so I thought, This is how the world is going see me for what I am.
I know that the special was amazing when I watched it live. Are you happy with how it came out?
I think so. I just want people to see it. It's been so long since we did it and it feels weird to be still the only one who's really seen it. I think it came out well. We talked about how it's hard to watch yourself and edit.
It's a nightmare. The hardest thing I've ever done in my life is watching my special over and over and over and over and over.
It's hours and hours.
It's a really long time and you're really hands-on. You're basically a producer, co-directing and co-editing. You have to watch your stupid face over and over tell a stupid joke in a stupid hoodie, which is probably why you don't like your outfit. But that's the thing: When people see it for the first time, with fresh eyes, they're going to love it.
Thank you. Yeah, I watched myself in that hoodie so many times, then I was like, Ugh, I should have gotten one more haircut.
We talked about haircut strategy.
Yeah, you got to go two weeks.
You don't want it to look like you just got a haircut and you certainly don't want it to look like you need a haircut.
By the way, we sound so vain right now, but this is how it is: You overthink everything.
Are you going to watch it?
I don't think I'm going to, but I will order it on every format possible just to boost the numbers a little bit.
I think you'll watch it. What I did was I got a couple friends together and we had a few American alcoholic drinks and it was actually fun. I just got outside of myself for a bit.
Yeah, and I think you're right. It has been a while since I last saw it.
You'll be surprised at how much you enjoy it. Did you stop doing that material?
Oh yeah, I didn't do any of that material for a long, long, long, time. Then recently I was out of town and I told one of the stories one night. It felt really good to do it. It sort of felt like an ending point, doing the special, but I missed telling it. But once the special comes out, I think it's all done.
Yeah, there's a reason why it's in the hour. You put together your favorite stuff and your best stuff that you've done so much that you're tired of it. I think the redemption is that you'll watch it and you'll enjoy it and I think other people will watch it and enjoy it.
Thank you, Pete. I'm already obsessed. Were you, like, obsessively looking for feedback?
I was pretty good about it. I assumed when people tweeted at me that they reviewed it that it was positive. And like my mother didn't like it because it was too dirty, and I was just like, "Well, I wish ya had, because it's really good."
Because you're wrong.
Yeah, because unfortunately you're missing an opportunity to get past your hang-ups on swearing and just be like, "I really love this." She's incredibly proud and loving and supportive, but she just would prefer I not say "Jesus is tone deaf" or whatever it is that I said. I said the fuck word a lot — not a lot, but once or twice.
I'm not going tell my parents about it.
I told my mother it's not for moms. I didn't send it to her. I didn't tell her when it was on. She doesn't have Internet, she barely has cable, but somehow she found it — I don't understand. Comedy Central must have aired it at 8 p.m. after Jeopardy on another network.
That's how she found it! I hope they don't air mine after Kitchen Nightmares, because then my parents are definitely going to watch.
You don't want them to see it either?
I'm just nervous about it. Obviously, I'm nervous about anyone seeing it, but them especially, just because, it's a lot of stories from when I was a kid. I also swear and I talk about sex.
It's a no-parent zone. If there's any takeaway from this interview, it's that everybody except Mr. and Mrs. Nanjiani should watch this special. It's not for moms, not for dads.
If you literally went to do stand-up and it was all people in their fifties, you'd be like, This is going to be a fucking terrible show, this is not my audience. And my parents are people in their fifties or sixties and I have very little in common with them and what they like to watch.
I did that. I opened for Martin Short and it just looked like a sea of my mother, like jazzy jackets and broaches — a lot of people wearing broaches. I can't relate to the broach community.
I have nothing for you. You have nothing for me. One of your community birthed me, and that's great, but let's move on.
Yeah, thank you for life. Here's what I've done with it. I'm not going tell you about it. So Kumail Nanjiani: Beta Male is a no-parent zone, but if you're not DNA-related to him, please enjoy it.
Please watch it.