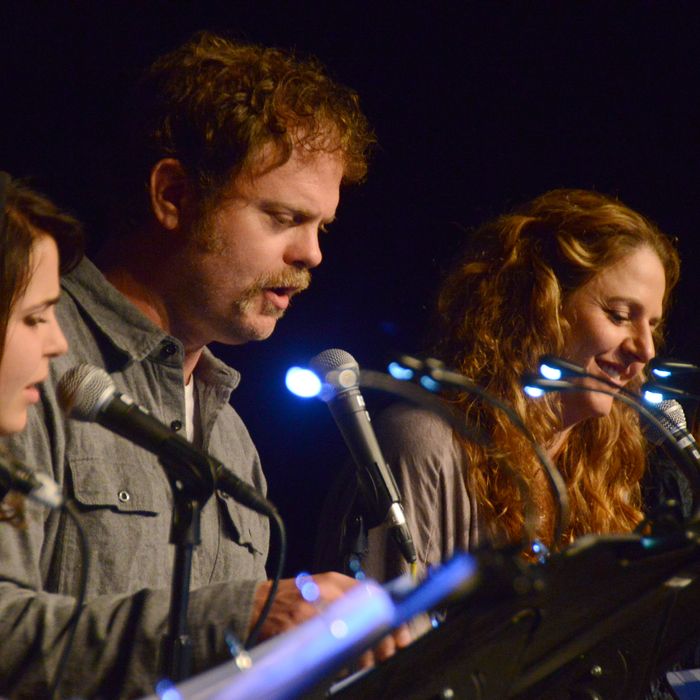 Photo: Araya Diaz/WireImage/Getty
At last night's live-read of the Breaking Bad pilot at L.A.'s LACMA, Jason Reitman addressed the screenwriters in the audience first: "Hide the knives tonight. This is so good you'll never want to write again. You fucker, Vince." Breaking Bad is the first TV show to be included in Reitman's Live Read series, in which the director puts together readings of classic films; he most recently staged an all-female Glengarry Glen Ross with Robin Wright, Catherine O'Hara, and Carla Gugino. "This is a little scary," Reitman said. "Normally when we're doing one of these, we're doing a movie so old that most of the people are dead by now. This time, not only are they alive, but they're here with us tonight." Indeed, Bryan Cranston, Aaron Paul, Anna Gunn, R.J. Mitte, Bob Odenkirk, and series creator Vince Gilligan were all in attendance to watch a new ensemble reinterpret the first episode. Headlining were Rainn Wilson as Walt, Mae Whitman as Jesse, Annie Mumolo as Skyler, Ellie Kemper as Marie, Chi McBride as Hank, and Paul Rust as Walt Jr.
Wilson dressed the part (mustache, sage-green shirt, brown corduroys) and his extra-dry delivery made the comedic bits even more arch. It was tough not to hear Dwight Schrute's know-it-all delivery during Walt's chemistry lessons or when he shows off his stolen cookware to Jesse ("Ah, Kjeldahl-style recovery flask. 2000 milliliters. Very nice"), but it worked for a seated reading. Kemper got a huge laugh after she tried for a Mexican accent to read the part of Emilio, Krazy-8's fallen partner. ("Go ahead, pendejo. Kick my ass.") And Whitman's Jesse stole the show. Nearly lost in a large black hoodie and high tops, she was fidgety and jumpy and excitable, using her whole body to get the most out of his colorful exclamations. ("A mobile meth lab'd be the BOMB!" "You're a goddamned artist. Yo, this is ART, Mr. White!") Paul was spotted in the crowd bowing down before Whitman after the show.
Hearing Reitman read Gilligan's even more colorful stage directions and scene descriptions — the stuff viewers never get to hear — was a bonus. When Walt was unable to hold an erection while a distracted Skyler gave him his birthday jerk-off, the script noted, "Apparently, there's no mighty oak sprung from whence the lowly acorn lies." The friends who showed up to his birthday were all "science nerds with large Adam's apples." And the montage of Walt cooking meth in the Winnebago for the first time was described as such: "For those of us who grew up watching The A-Team, this is that scene they'd always do where the A-Team builds a tank or a jet plane out of spare parts. Same feeling, same energy except here, our guys are making highly illegal drugs." The evening was a welcome trip down memory lane heading into Breaking Bad's final episodes. Remember when Walt worked part-time at the car wash Skyler would later buy to launder his money? Or that she'd once had fleeting aspirations to publish a collection of short stories? And apparently, we'd blocked out entirely Hank's beginnings as a singularly annoying buffoon. Because now, he's our hero.