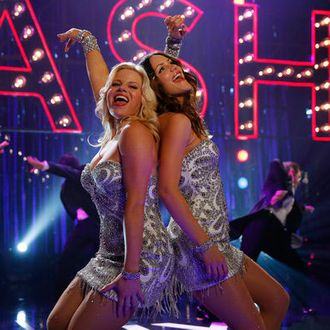 Hello! So, listen, here's what happened. There was this TV show called Smash that used to be on NBC. Vulture asked me to recap it, and many things happened. Woodland creatures frolicked, scarves were worn and discarded; prednisone was found to have hallucinogenic properties; salads of Rage and Recrimination were composed and consumed. And I recorded it all, attempting to bear witness, like the Victor Klemperer of the gay piano bar.
And people began to pay attention to these attempts. Some of them were famous. Some of them were not. None of them were Katharine McPhee (although I did begin to receive unhinged e-mails from her small band of ardent supporters in the Philippines, whom I believe will be the subject of the next Alex Timbers–David Byrne collaboration). One of these people (in the corporations-are-people sense) was Amazon, who asked me to write a Kindle Single about my experiences. A recap of the recaps. And then Vulture kindly allowed me to write this to tell you about it, i.e., as a recap of my recap of my recaps, and if that's too meta for you, you aren't using the Internet correctly.
Anyway, you can now download what New York Times critic Jason Zinoman called "the Horatio Alger story of 2013" (on Twitter, so you know he means it!). It's called LET ME BE YOUR STAR, after … you know. You'll laugh, you'll cry, you'll sing along (song sheets are handily provided for campfire favorites such as "Pore Kyle Is Daid," etc.). All you need is some form of screen —  which, if you're reading this, you already have —  and $1.99. Buy it here. I hope you will love it, just like I love you, because none of us got enough love in our childhoods, and that's showbiz, kids.