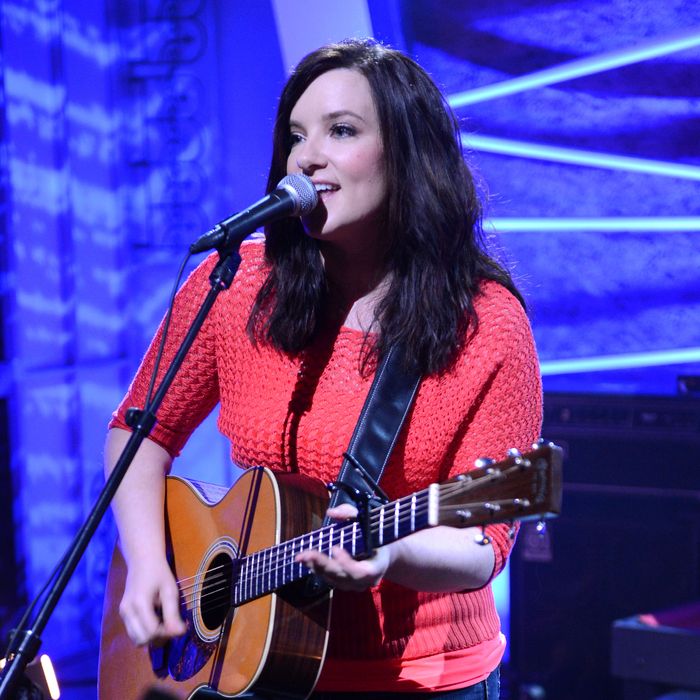 Photo: Jason Davis/2013 Getty Images
12 Stories, the first full-length album by country singer-songwriter Brandy Clark, will be officially released in the fall. I managed to get to my hands on a copy a few weeks ago; I've been listening nonstop. Pound for pound, song for song, it's my favorite album of 2013, and I've heard some good ones.
Clark is 35 and from Washington State. She's been in Nashville for several years and, recently, has begun to make a name for herself on Music Row. Her songs have appeared on albums by Reba McEntire and Darius Rucker; she co-wrote two No. 1 country hits, the Band Perry's zippy new-fangled death ballad "Better Dig Two" and Miranda Lambert's thumping "Mama's Broken Heart." Clark also has writing credits on three of the songs on Same Trailer, Different Park, the hit debut by Kacey Musgraves, including "Follow Your Arrow," the closest thing country has to a left-leaning anthem in 2013. "Follow Your Arrow," like "Mama's Broken Heart," was written by Clark, Musgraves, and the prolific hit-maker Shane McAnally; that trio is part of a loose confederation of musicians who are giving commercial country a jolt, bringing a new kind of emotional realism, a younger perspective, and an injection of progressive politics to pop's most hidebound genre. (Both Clark and McAnally are gay and uncloseted, a rarity in Nashville.)
In December 2012, Clark released three of the tracks on 12 Stories. That EP, available on iTunes, is a good appetite-whetter for the album proper. Musically speaking, Clark is a classicist: Her songs are models of fine Music Row handicraft, built from time-tested materials. She's a brisk, vivid, witty storyteller; her tunes unfold in old-fashioned weepers and chugging honkytonk, with fiddles, pedal steel, and vocal harmonies driving home the punch lines and pathos. Clark is an excellent singer, with a voice that slides easily between songbird prettinesss and hard-drawlin' twang. You can hear her mastery of songform on "Stripes," her first single, which plays like a send-up of Lambert's gun-slinging revenge anthems. Clark catches her lover in flangrante, but stops herself from pulling the trigger because she doesn't look good in prison garb. "There's no crime of passion/Worth a crime of fashion," she sings.
"Stripes" is a hoot, but it's in the ballads that Clark especially shines. You won't find "Follow Your Arrow"–style sloganeering in Clark's music, but there's no mistaking the realism, or the politics. She sings Great Recession songs — stories of lost souls in lean times. "Take a Little Pill" is a song about addiction set against a ravaged rural backdrop. (Clark's small towns look a lot more like the meth-plagued American heartland than the county-fair-and-cane-pole-fishin' idylls that are all over country radio.) Even better is "Pray to Jesus," about the faint hopes of regular Joes and Josephines who "don't want to be buried in debt or in sin." Clark sings: "We pray to Jesus and we play the lotto/'Cause there ain't but two ways we can change tomorrow." "Pray to Jesus" is a kind of companion piece to Musgraves's "Merry Go Round," a deceptively gentle ballad that comes in shuffling and swaying — before clobbering you with the force of a two-ton truck. It's a magnificent song: sturdy enough to keep you going for the next few months, until you can dig into nine more Brandy Clark stories.