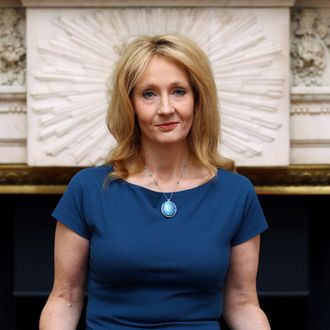 Photo: LEWIS WHYLD /PA WIRE/Corbis
Harry Potter creator J.K. Rowling hasn't stopped writing just because the magical series is over, and the 47-year-old's first shot at adult fiction, The Casual Vacancy, received decent reviews last year. But for her second effort, Rowling took a different approach, ditching her best-selling name in favor of "Robert Galbraith," described in press materials as a "former plain-clothes Royal Military Police investigator who had left the armed forces in 2003 to work in the civilian security industry." Galbraith's detective novel, The Cuckoo's Calling, was released in April and sold 1,500 copies — not exactly Harry Potter-level (or even Casual Vacancy-level) numbers. But now that the UK's Sunday Times has revealed Galbraith's true identity, the book has moved up 5,000 places on Amazon's sales list — a 507,000-percent bump.
Of her male pseudonym, Rowling said, "It has been wonderful to publish without hype or expectation, and pure pleasure to get feedback under a different name," adding that she'd "hoped to keep this secret a little longer" — especially since another Galbraith work about the detective Cormoran Strike is scheduled for next year. And, as the BBC notes, the The Cuckoo's Calling might actually be worth reading: "One reviewer called it a 'scintillating debut,' while another praised the male author's ability to describe women's clothes." If nothing else, perhaps more books by new and unknown authors will now have a better chance of being published, if only because editors are hoping there's a superstar author behind that pen name.