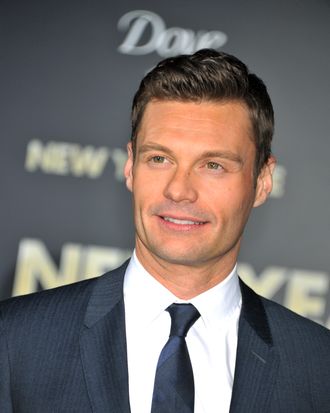 TV personality Ryan Seacrest arrives at the premiere of "New Years Eve" held at Grauman's Chinese Theater in Hollywood.
Photo: Frank Trapper/Corbis
Ryan Seacrest is negotiating to host and executive produce a new show on NBC "which pits contestants against each other 24/7 across TV and online." It's called Million Second Quiz, which only makes sense once you know it'll run for twelve days in September, and that equals roughly 1 million seconds. The benefit of Seacrest taking the gig would be the conclusive knowledge that there are Ryan Seacrest clones. No way he's doing Idol on Fox, ABC's New Year's Eve show, and an NBC primetime gig without clones.