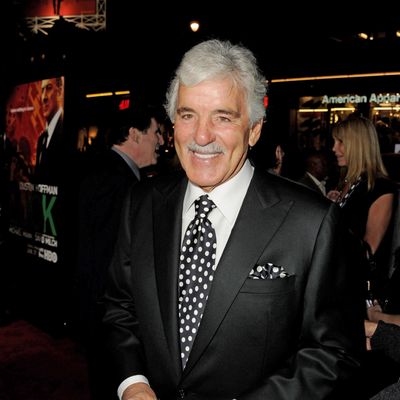 Actor Dennis Farina arrives at the premiere of HBO's "Luck" at the Chinese Theater on January 25, 2012 in Los Angeles, California.
Photo: Kevin Winter/Getty Images
If Dennis Farina had come up in the forties, he might have made three movies with Humphrey Bogart — one where he killed Bogart, another where he helped Bogart get the girl, and another one in which Bogart killed Dennis Farina, most likely in a hail of bullets. The actor, who died today at 69, and starred in TV's Crime Story and such films as Midnight Run and Get Shorty, had a pre–World War II Warner Bros. gangster movie face: pockmarked, with dark eyes and a walrus mustache. He also had an authentic and very thick Shu-CAHH-go accent because he was a Chicago guy through-and-through, with a mug that Chicago Tribune writer Rick Kogan said "should be found at dawn, unloading crates of lettuce from the back of a truck on Randolph Street."
Farina could be menacing or courtly, sometimes in the same moment, and he exuded physical authority in a way that few contemporary American actors do, probably because the former cop didn't start memorizing lines and wearing makeup and learning to hit marks until he was 37. That's when writer-director-producer Michael Mann, himself a Chicago guy, discovered Farina, who'd been hired to help Mann scout locations for his slickly atmospheric 1981 cops-and-robbers drama Thief. For kicks, Mann cast actual crooks as cops in the film and vice versa. He liked Farina's imposing demeanor and gave him a bit part as one of the goons guarding the film's chief heavy, Robert Prosky; Farina's big moment sees him getting plugged by the movie's hero, James Caan, and catapulted backwards in slow-motion while an instrumental facsimile of Pink Floyd's "Comfortably Numb" blasts on the soundtrack.
The parts got a lot better from there: He was a gangster on Mann's hit TV series Miami Vice, played the first screen incarnation of Thomas Harris's FBI guy Jack Crawford in Manhunter (opposite Chicago theater vets Joan Allen, Tom Noonan, William L. Petersen, and Stephen Lang), and scored the lead role of Kennedy-era Chicago police detective Frank Torello in Crime Story (1986–88). The latter was a period piece by Mann and cop turned screenwriter Chuck Adamson, whose exploits were also the partial basis for Mann's TV movie L.A. Takedown and its big-screen remake, Heat.
TV critics were initially surprised that Farina, at that point still a relative unknown, had been entrusted with the hero role in a lavishly produced period piece; but once they saw how he looked in a fedora, running down noir-ishly wet streets with raindrops spattering off the brim, suddenly it made sense. Farina was a Baby Boomer, but carried himself like a red-meat-eating tough guy of the World War II generation, the kind of bruiser who'd have tossed Don Draper in a drunk tank to dry out and maybe teased him for being one of those gray-flannel-suit types. Crime Story was never more than a middling ratings success, and a writers' strike seriously damaged its narrative momentum in season two,  but Crime Story is still fondly remembered as a precursor to the likes of  The Wire, Deadwood, Breaking Bad, and other shows that have to be viewed in totality instead of in self-contained pieces.
Farina jumped from Crime Story to a series of big-screen character parts, often playing thugs or cops. He was hilarious and then disturbing as the Chicago mobster out to get Robert De Niro and Charles Grodin in Midnight Run, at one point memorably promising to bury a pencil in a stupid underling's heart. He hit similar affable and intimidating notes in Get Shorty, The Mod Squad, and Snatch. He played a rare romantic lead role opposite Bette Midler in the 1997 comedy That Old Feeling, and got to be dashing, if typically smart-alecky, in the short-lived late-nineties CBS series Buddy Faro. His biggest role in the last ten years was arguably his most thankless, playing the flashy detective Joe Fontana on Law & Order, partnering up with co-star Jesse L. Martin in place of the dearly departed Jerry Orbach. His last great role was a rock-solid best friend and confidant part, as Gus Dimetriou on HBO's Luck. Farina got to play scenes with Dustin Hoffman under the supervision of Mann (yet again) and David Milch. The role asked him to be equally credible playing "Who's on first?"–style banter with Hoffman and other actors, and killing a would-be assassin in a restroom stall. You believed him no matter what. He was Dennis Farina.