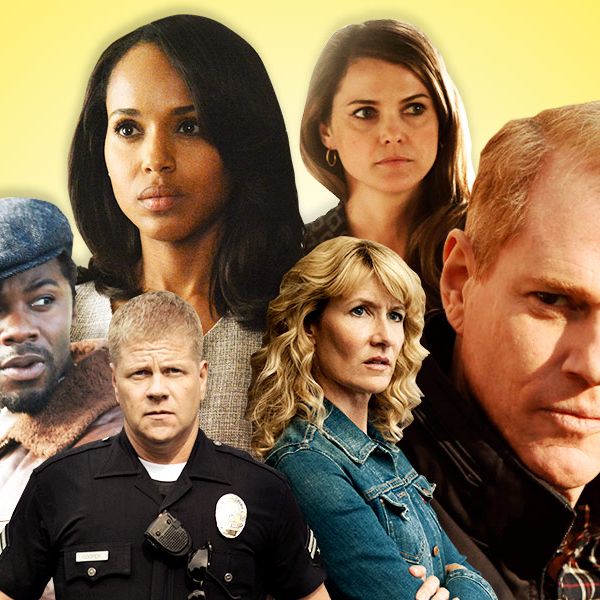 Photo: ABC, HBO, Showtime and FX
The Emmys, people. You've seen the major nominations, and if you haven't, you can browse the list right here. I struggled with how to parse these — as always, there are a lot of nominees that I don't hate, exactly, but that are taking up slots for people and shows that I love.
Finally I settled on a set of mirrored lists for the major categories, with a bit of commentary explaining why I picked different shows than the Academy did. Then I listed the individual nominations that made me happiest and unhappiest.
Please share your own lists in the comments.
Best Drama
Emmy's choices:
Breaking Bad

Downton Abbey

Game of Thrones

Homeland

House of Cards

Mad Men
Matt's choices:
Breaking Bad
The Americans
Game of Thrones
Justified
Hannibal
Scandal
Breaking Bad is incredible; Game of Thrones is terrific, epic storytelling; and though season six of Mad Men was uneven and sometimes a bit of a mess, the worst that show can offer is better than most of TV's very best, so I'm fine with those three grabbing top slots — though my own fantasy alternate list requires me to kick one of them to the curb, so adios, Mad Men. Downton Abbey had two great episodes this year — the one everyone talked about, and the one that came right after — and it was consistently tight, propulsive, and on message, but it didn't altogether impress me as deeply as some other dramas. House of Cards was good, sometimes very good, but I can't help feeling it's been slightly overrated because of the "event" factor (it was Netflix's first homegrown drama series) and the star power factor (Oscar winner Kevin Spacey, Robin Wright, Oscar-nominated director David Fincher in the driver's seat). If it had aired on a regular pay cable network, I suspect it might have been one of those shows that you keep forgetting to watch, and catch up with later on Netflix. And Homeland, oy. I enjoyed it, but too often it felt like a crazy show trying to pretend it was quality television.
Which is why Scandal is on my list: It knows what it is — basically 24 in pumps, as I wrote in an appreciation this past spring — and it's utterly brilliant at being that thing. Justified is the most deftly plotted series on TV right now, and one of the most consistently pleasurable. The Americans and Hannibal had two of the strongest freshman seasons I've ever seen. The Americans hit a lot of the same themes as Homeland better than Homeland hit them in either of its two seasons. And Hannibal is just otherworldly good, doing things with style, tone, photography, design, and music that I've never seen done anywhere.
If the writing on the final season of Southland were as consistently outstanding as its acting, direction, editing, and photography, I might have had to kick out another Emmy-nominated drama to make room for it. What a terrific show. It's a small miracle that it lasted as long as it did.
Best Comedy
Emmy's choices:
30 Rock

The Big Bang Theory

Girls

Louie

Modern Family

Veep
My choices:
30 Rock
Arrested Development
Girls
Enlightened
Louie
Parks and Recreation
I don't understand the voters' continued enthusiasm for Big Bang Theory and Modern Family. I just don't. So I'm going to leave it alone. The other four nominees — Girls, Louie, Veep and the final season of 30 Rock — are so strong, for one reason or another, that I can't imagine any awards group with eyes and ears failing to include them. But I think the second season of Enlightened, the most recent season of Parks and Rec, and the long-awaited forth season of Arrested Development are equal to, in some ways better than, any of the shows that did get nominated, including the very good ones. (Since there are only six slots, I had to drown one of my babies, so sorry, Veep.)
Season four of Arrested Development just blasts the rest of the comedies out of the water, including Louie, amazing as it is. I make the case for its greatness here. The fact that Netflix's House of Cards got nominated in the drama category while AD didn't get nominated in the comedy category offers further proof, as if you needed any, that these awards groups don't have any respect for innovations in form. Where House of Cards was a good adult drama series that just happens to appear on Netflix, Arrested Development was a comedy series that took structural risks that you can only take on Netflix (Orange Is the New Black is currently attempting similarly dazzling things).
Odds and ends
• I was worried that Vera Farmiga's exquisitely measured and empathetic performance as Norman Bates's mother on Bates Motel wouldn't get nominated. I'm so glad it did.
• I hated HBO's Phil Spector movie but was glad Al Pacino got nominated for his lead performance. As hammy as he usually is in theatrical films, he's equally as thoughtful in his cable performances.
• I could not be more pleased that American Horror Story led the miniseries nominations. It's consistently the most heedlessly inventive series on cable: a weekly explosion of midnight-movie style WTF, Did you See That? This category is where it belongs — the show is essentially an anthology series whose unit of measure is the season rather than the episode.
• It's a pity the Academy didn't nominate Corey Stoll for his devastating supporting turn on House of Cards, or Noah Emmerich for his work on The Americans, which I wrote about here. I also would have liked to have seen a nomination for Derek Luke for his heartbreaking work as Gregory on The Americans, though I'm not sure he would have qualified as supporting given his limited screen time; guest, perhaps.
• I would have preferred they'd nominated Timothy Olyphant for Justified over, well, almost anyone in the drama category, except Jon Hamm and Bryan Cranston. As Raylan Givens, Olyphant's giving the kind of performance that almost nobody recognizes as "acting." It's an old-fashioned movie hero performance in which much of the emotional action is internal and articulated with great subtlety. You have to really pay attention to see how much he's doing with very little traditional maneuvering room.
• Tatiana Maslany of Orphan Black should have taken Michelle Dockery's Best Actress slot for Downton Abbey. And she should have gone on to win the category. She's giving a whole career's worth of performances in one show. What she's doing reminds me a bit of Toni Collette's work on The United States of Tara, but in many ways that are more convincing and fully imagined.
• Yay, Anna Chlumsky and Tony Hale for Veep!
• The lack of writing and directing nominations for Arrested Development would seem more scandalous if the show's format didn't make it so hard to judge the individual pieces in isolation. That said: Come on, people. Tobias dressed as the Thing from Fantastic Four did nothing for you?
• No David Lynch as Best Guest Actor on a Comedy, for Louie? I hope somebody sent him a can of creamed corn as a consolation prize. He was bizarre and amazing.
• Alan Menken got nominated for Best Original Song for ABC's The Neighbors. It was catchy, no doubt.
• Pleased to see so many nominations for Behind the Candelabra, including on the technical end of things. It does create a conundrum for director Steven Soderbergh, though. He photographed and edited the picture under pseudonyms, as Peter Andrews and Mary Ann Bernard, respectively. Fortunately for him, the technical awards are given out at a sidebar ceremony before the main event, so if he wins, he won't have to go up there in a fake mustache, or in drag, much as I'd enjoy it if he did.
• Patton Oswalt should have been nominated as guest actor for his turn as Constable Bob, the pipsqueak lawman who proves unexpectedly resilient in the end, on Justified. The hyphenate Oswalt doesn't necessarily need any more praise, but it'd be nice if he got more recognition for being a genuinely excellent actor, as opposed to a comedian who just happens to act.
• I'm slightly stunned, though pleased, that a miniseries as prickly, strident, earnest and altogether mesmerizing as Jane Campion's Top of the Lake could score a bunch of nominations. If Germaine Greer had written Twin Peaks, this is what it might have looked like.
• Does anyone else think it's weird and maybe unfair to let sketch comedy actors compete alongside actors who play one character in a comedy series? Bill Hader is hilarious on Saturday Night Live, but when you look at who he's up against in his category, it feels like somebody dropped an orange into the apple barrel.
• I wish Sundance's Rectify had been nominated for something. I didn't expect it to, but still.
• Obviously, if I had my way, The Americans would be nominated in every major category, sometimes more than once, but the omission of Keri Russell from the Best Actress category bugs the hell out of me. Not only was she flat-out terrific — as strong as Claire Danes on the similar Homeland, which is strong indeed — she obliterated past associations with her best-known character, Felicity. That's very hard to do, and not many TV stars have managed to do it. Danes is one. Bryan Cranston is another.
• Parker Posey should have been nominated as guest actress in a comedy for Louie, and gone on to win, then been carried out of the theater in a carriage pulled by animated horses while being serenaded by animated birds.
• Vincent Kartheiser should have been nominated as best supporting actor in a drama, and appeared at the awards ceremony in boxer's headgear. He's just so punchable!
• If Jonathan Banks doesn't win Best Supporting Actor for playing Mike on Breaking Bad, the award means nothing, and the word acting means nothing, and maybe everything means nothing, and we should all just go die in the tall grass.