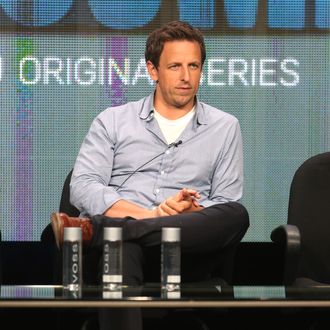 Photo: Frederick M. Brown/Getty Images
Seth Meyers is set to take over NBC's Late Night in just about 29 weeks, but he betrayed not a hint of nervousness during his appearance this morning in Los Angeles at the TV Critics Association press tour. "I think 'really terrified' won't start to raise its head [until] January," the Saturday Night Live star quipped to a small group of reporters right after his formal TCA session, which was not for Late Night but for his new Hulu toon, The Awesomes (the first two episodes drop Thursday). During the ten-minute huddle with journalists, Meyers — who didn't do a news conference with reporters when he was named Jimmy Fallon's replacement in May — offered a few hints about what the Meyers era of Late Night might look like when it kicks off February 24:
• There's a chance Meyers's show will do originals four nights a week instead of five. "We haven't really decided, but we are having that conversation," Meyers said. Fallon and current 12:35 a.m. rival Craig Ferguson currently air five nights of originals each week, but earlier in the night, Jimmy Kimmel, Conan O'Brien, Jon Stewart, and Stephen Colbert tape four originals per week. (Repeat episodes air one weeknight each week.)
• Meyers and exec producer Mike Shoemaker are making contingencies for what could be a Gotham late-night guest crunch. With Fallon moving The Tonight Show to New York next year, landing celebs during their East Coast media tours might get a bit tougher. "We're in a situation where a lot of shows are in New York, which is great," Meyers said. "There is a chance that with bookings, we're going to have to try to find people that we find interesting more than maybe [guests] people are clamoring to see. But that's something we look forward to doing, which is find the sorts of guests who can maybe come back once a month."
• While "Weekend Update" won't migrate with Meyers, "I do think we want to have some 'Update' elements," Meyers said. "I've always been drawn to topical humor. We want that to be a big element of the show." At the same time, "We want to have a traditional monologue as well," he added. The part of "Update" most likely to make the transition to Late Night is, as Meyers told the New York Times in May, the chats with fake guests. "I like the idea of having a guest come on and get into it, somebody playing a character as opposed to a talk-show guest," Meyers said. That's one reason why Meyers is looking to staff the show with writers who are also performers, à la SNL and the early days of Late Night With Conan O'Brien. "I really enjoy playing straight man to people who are funny. So we'll try to get some of those people around," Meyers said. That said, pretend journalism will still be a part of the show. "You can always count on a little fake news," he quipped.
• Meyers probably won't put quite the emphasis on music as that friend-of-Justin, Fallon. "The biggest mistake would be trying to do something that someone else is doing as well as has ever been done," he said.
• While Jay Leno famously lobbied for Tonight, and Conan O'Brien won Late Night after an exhaustive audition process, Meyers says he had no five-year-plan for taking over 12:35. "When you're working on SNL, you really don't have too much time to think about what it is that you're going to do next," Meyers said. "I didn't think necessarily this … was going to happen this soon, and when it happened, I will say it happened really quickly. It really did come to a conclusion in two or three weeks. It wasn't, like, a thing I was lusting for … As with all people in late night, when I heard [New York Times reporter] Bill Carter say it's a possibility, I started to think about it."
• There really is a brotherhood of late-night men. "I was incredibly flattered that almost everybody in late night reached out to say, 'Congratulations, and let us know if you have any questions.'"