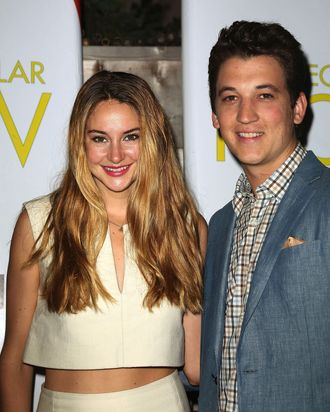 Shailene Woodley and Miles Teller.
Photo: Sonia Moskowitz/Getty Images
In The Spectacular Now, Shailene Woodley and Miles Teller star as a troubled high-school couple, the kind with drinking problems and bad parents, but also the kind with heart and hope — and hormones. They like to kiss each other. What was shooting those more passionate scenes like? "I would be drinking a Gatorade right before a kissing scene," Teller told us at a screening of the movie hosted by the Cinema Society this weekend. "She would be like, 'Are you serious? You're gonna kiss me after that?' I was like, 'Yeah, I am.' She would take these herbal supplements, these Chinese herbal supplements, and they tasted like crap. And she would always eat them right before we had a kissing scene! We put stuff in our mouths so we could just offend each other."
When we asked Woodley for her side of the story, she basically just agreed with Teller. "We'd have to kiss in a scene, and he'd be like, 'Shay, you just ate dirt.' And I'd be like, 'Miles, you just ate licorice.' It was just this ongoing back-and-forth." The two also star in the upcoming adaptation of Divergent, and so we took a second to ask Woodley which sect she'd be in, if the dystopian world of the YA novel actually existed. "If we're talking about today's society," she said, "I could see myself leaving the domestication sect, and leaving to go into the mountains with the Billy goats." Ha! Yes, that sounds about right.