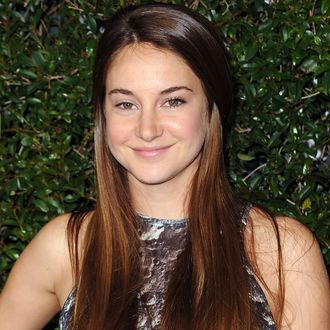 We are about to enter the Great Shailene Woodley Era, in which the Secret Life of the American Teenager and Descendants star will be in just about every movie that is released. (Especially the YA movies.) If Woodley's recent Interview chat with Emma Stone is any indication, we are also about to be treated to a year of delightful press, because Shailene Woodley is a quote machine. So enthusiastic! So charmingly earnest. Take her morning ritual, for example:
 The second I wake up, I scream very loudly [sings to the tune of "Good Morning" from Singin' in the Rain], "Good morning! Good morning!" And then I scream out, "Exciting day! Exciting day!" I feel like it completely sets the mood for the whole day.
And here she is talking about re-wilding. (Fun fact: Woodley dedicated her MTV Movie Award to Hawaii, cinema, and re-wilding.)
The whole concept of re-wilding came about through some really good friends of mine, and it's basically about adapting to your current situation. If you're in the city, then you can't go back to hunter-and-gatherer times, so you have to adapt to the lifestyle that's out there. Herbalism is part of that, and knowing how to heal our bodies naturally and knowing about organic farming. It's so important and essential to the Earth, to Gaia.
Some real talk about George Clooney and press questions:
I don't mind talking about him, though, because he's one of my favorite human beings on the planet. But it's true that very few people have asked me what it's like to work with Judy Greer or Ann-Margret or Molly Ringwald. It's always the leading male.
She also threatens to buy Emma Stone a pair of those five-toe shoes. Go, read the whole thing and prepare for greatness.