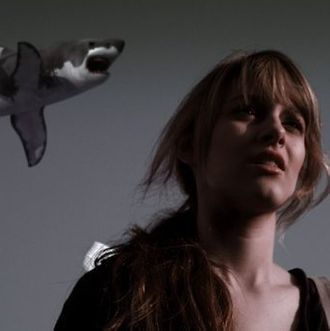 Syfy's Sharknado won the Internet Thursday, but it didn't move the needle in the Nielsens. National numbers won't be out until later today, but in the nation's biggest cities, the disaster mash-up movie which so captivated Twitter was seen by around 1.4 million viewers and averaged a 0.4 rating among adults under 50. (It's possible that final numbers will be a bit higher, maybe pushing Sharknado to, say, 2 million viewers.) While a bit better than the average Syfy original movie (last month's Independence Day-saster was seen by 1.3 million viewers), the ratings were by no means phenomenal, even by cable standards. By contrast, Syfy confirms what anyone who was on Twitter last night knows: Sharknado dominated the social media conversation, generating over 350,000 tweets (about 5,000 per minute at its peak). What's more, the network says its B-movie came within a few thousand tweets of matching the Twitter frenzy stirred up by the Red Wedding episode of Game of Thrones. This disconnect between Twitter hype and Nielsen ratings may seem strange, but it's nothing new.
Last fall, Lifetime's Lindsay Lohan-led Liz & Dick set Twitter ablaze; the movie's ratings were just okay. Likewise, Mad Men and HBO's Girls also generate endless tweets about their various plot points, but neither show is as big in the Nielsen ratings as its online chatter might suggest (though, in fairness, Mad Men has a much bigger audience than Girls, at least when comparing same-day ratings.) What's more, while CBS has plenty of shows which do well on social media (Big Brother being one), the network's NCIS, even with a weekly audience approaching 20 million (including millions of young adults), never seems to get the Twitter all hot and bothered.
This is not to say, of course, that there's no link between tweets and ratings. Discovery's recent live special featuring Nik Wallenda's high-wire walk across the Grand Canyon was a social media and Nielsen smash. And ABC's Scandal has used Twitter masterfully, translating increasing online buzz into ever-growing ratings. Likewise, while Sharknado's ratings might not have lived up to the movie's Twitter performance, Syfy can only be happy about what happened last night. First, it paid next to nothing for the rights to the movie, and for that low, low price, it'll get at least 24 hours of free media coverage, in which everyone will be talking about how everyone is talking about Sharknado. It will probably get a decent rating next Thursday, when it plans to repeat the movie (maybe showing tweets about it on screen?). And, if it's smart, it will quickly turnaround a Sharknado sequel which, thanks to all the hype for the original, might actually do really big Nielsen numbers. Let's just hope Tara Reid doesn't hold out for more money.