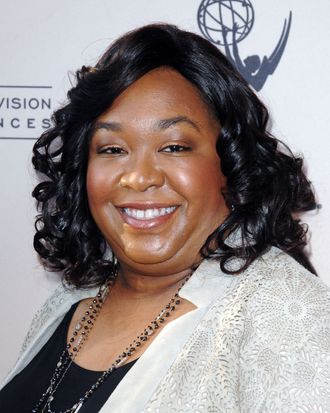 Shonda Rhimes==WELCOME TO SHONDALAND: AN EVENING WITH SHONDA RHIMES AND FRIENDS==Academy of Television Arts and Sciences, Noth Hollywood, CA==March 31, 2012.
Photo: David Crotty/Patrick McMullan
Shonda Rhimes is writing a movie about female war correspondents for Columbia Pictures, according to The Hollywood Reporter. The aptly named War Correspondents is the latest incarnation of an idea the Grey's Anatomy and Scandal creator has been kicking around since 2002, when she originally imagined it as a TV show. The would-be series got a little closer to production in 2006, but still didn't make it to broadcast. (Recall that when Denny was originally killed off on Grey's, it was so Jeffrey Dean Morgan could be on this show.) And in 2009 Rhimes, had another journalism-set TV show in the works, but that didn't make it to air either. No word yet on who will direct or on how much audiences will hysterically sob.