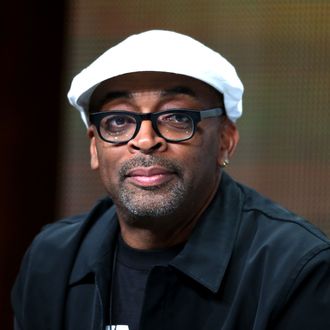 Photo: Frederick M. Brown/Getty Images
As has been the case with the other celebrity Kickstarters, Spike Lee has been getting some push-back for trying to fund his next movie through Kickstarter, a platform some see as only for new and unconnected filmmakers. In a new YouTube clip, Lee responds to the criticism he says he was expecting. He rebuffs the claim that any money donated to him would've necessarily gone to a different filmmaker. He adds that "[he's] bringing people to Kickstarter who've never even heard of Kickstarter," especially "a lot of people of color."
Also on the Spike Lee Kickstarter front, this weekend Steven Soderbergh wrote a blog post explaining why he decided to donate $10,000 to Lee's cause. Besides being friends and Soderbergh respecting Lee's "body of work and its distinct point of view," Soderbergh donated because of Lee's influence on him when he was starting out in the eighties:
"I was attempting to find my own voice and place in the film world, three independent American filmmakers in particular attracted my attention and expanded my idea of what was possible; David Lynch, Jim Jarmusch, and Spike Lee. These were distinctive new voices, and the freedom (and success) they represented was liberating and energizing; these were shoulders I would try to stand on, that I would be proud to stand on."
You hear that, Jim Jarmusch? Steven Soderbergh will probably give you $10,000 if you ask him.