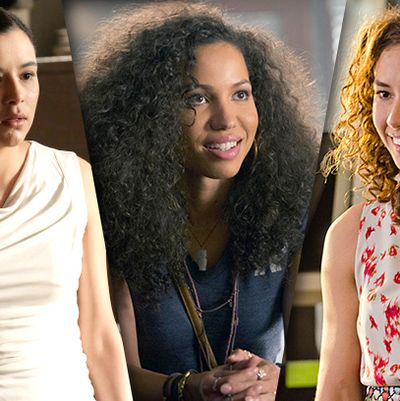 Photo: FX, HBO and Showtime
Last night's Dexter introduced a new character into the mix, though not one the show particularly needs. Masuka has a daughter! In fact, he probably has a few, thanks to his prodigious sperm donating. The introduction of the college-aged Niki should have made me annoyed that Dexter isn't more focused on its endgame, but instead, all I could think was, Hey, it's Becky from Friday Night Lights!
Dora Madison Burge will be on at least a few more Dexters, and she is not the only FNL actress having a big summer. Over on True Blood, Jurnee Smollett-Bell is playing the not-very-interesting Nicole, but she'll always kind of be Jess to us. (Does Bon Temps have a football team? Get her to coach it.) And on FX's new border town serial killer show The Bridge, Emily Rios plays up-and-coming reporter Adrianna Mendez. She also played Epyck, one of Mrs. Coach's struggling East Dillon students who eventually, maybe sort of, learned from the compassion, devotion, and wisdom of Tami Taylor. (Rios was also Maria on Men of a Certain Age and Andrea on Breaking Bad, which is a pretty superb résumé.)
FNL's main stars are all still very present in TV and movies, but it's extra gratifying to see its secondary and tertiary characters pop up on big shows: All those years I begged and begged people to watch? Well, I was right. Everyone on that show was good, all the time, at everything. That show was so good that I distinctly remember people who were only on four episodes! If we can get Grandma Saracen to play another tragic grandma in the next season or two, we can all retire happy.