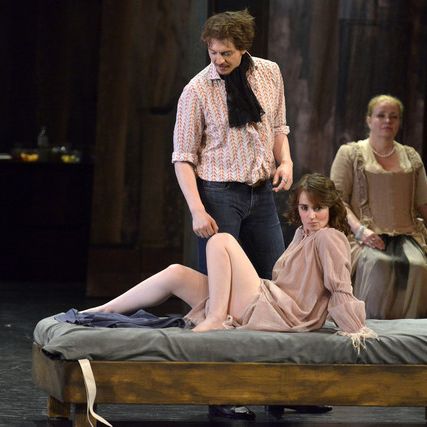 Photo: Stephanie Berger/Lincoln Center
I don't throw around the term "sexcellent" willy-nilly — I'm more of a "fucktastic" man — but I apply it without reservation to the John Malkovich–directed Les Liaisons Dangereuses, presented by the thrilling young Parisian company Théâtre de l'Atelier. Here's the familiar eighteenth-century story of carnal assassination and cardio-decadence, familiar to most American audiences via the 1988 film starring Malkovich himself, given a fortifying shot of theatrical B-12 right in its ample apple bottom.
Forget the showy, silly smartphones and tablets, the lamest of the "updates" Malkovich has persuaded playwright Christopher Hampton to accept: The joy of this delectable poison-pastille of a production — set in a rehearsal-room meta-space and featuring meta-period costumes (corsets and jeans) that self-deconstruct — is sex. Yannik Landrein's Valmont is wholly different than Malkovich's, more of a devious, callow man-boy, but with a tragic streak clearly visible from the jump, an aging hipster's goofy vulnerability squirming beneath all that flawless game. He's fearfully matched with Julie Moulier's unsettling and brilliantly underplayed Marquise de Mertuil, Valmont's fellow-libertine and unreliable partner in sexual black-ops.
Malkovich's vision has the company onstage at nearly all times, half-willing, half-smirking, half-complicit voyeurs to the spectacle of their own characters' degradation; secrets, the currency of intrigue, are null and void. (We don't necessarily need to see characters texting each other "upskirts" to get the point, but … hell, it's fun.) We feel, at any moment, that an orgy could break out, and this is accomplished effortlessly, using mere biology and good blocking, and a conspicuous lack of community-theater chest-heaving and wink-winking. (It helps that the cast is [a] age-appropriate and [b] tantalizingly human-looking.) But scandale! I saw empty seats at my performance last night! This must not be. The wet heat is starting to break a bit, and carnality is once again imaginable in this crock-pot of a town; throw on your jeans and petticoats and get dangereuse at a treacherous, ancien regime swingles party, spit spot. The sweet torment only lasts until July 14.