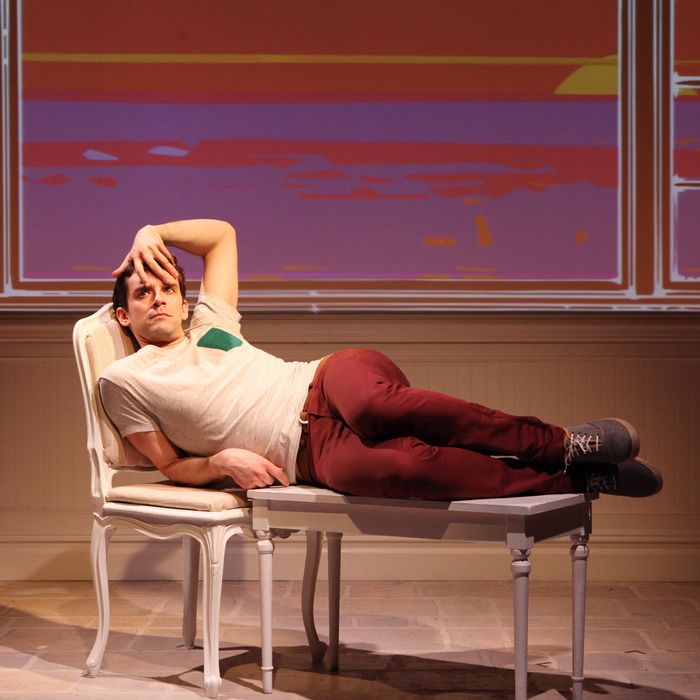 Michael Urie in Buyer and Cellar.
Photo: Sandra Coudert
Buyer and Cellar (at the Barrow Street Theatre through October 13)
Jonathan Tolins's multicharacter megalogue—starring the ticklishly talented,  ultracarbonated Michael Urie—imagines the life of an employee on Barbra Streisand's Wonka-like estate, slyly and hilariously corkscrewing a wacky story of gay icon-worship run amok with a treatise on the poignancy of our starfucking (sorry, "aspirational") economy. Alex (Urie) is an unemployed actor who interviews for a mystery job in Malibu: a nameless supercelebrity has built a freakin' mall in her basement—a private galleria with one customer. This eccentric wants an "employee" to staff it—to, in effect, sell her own stuff back to her, praising the wares and jacking up the price. When Alex discovers his loopy boss is none other than the Thrush of Brooklyn herself, he's hooked. (Also, his VW is on its last legs, and this beats auditioning.) Latter-day Marie Antoinette peasant-play evolves into bosom friendship—and then, of course,  devolves just as quickly—as Urie,  sneaking up from behind that bright-eyed guilelessness, frictionlessly switches characters and ornaments the old cliches of gay diva-worship with a new awareness. His timing is flawless, his irony pH perfectly titrated.  (Bouquets to director Stephen Brackett for his muscular minimalism, keeping the narrative thread tauter than James Brolin's rich-Corinthian-leather brow ridges.) Even if you don't give a damn about divas and divalogy—and I don't—you'll find yourself hopelessly involved in this simple, silly, sweet-and-sour story of people… who need people… enough to buy people.
Choir Boy (at City Center through July 21)
Stirring shards of glass into creamy harmonies, Tarell Alvin McCraney's Choir Boy starts strong and just keeps on exceeding its faintly after-school-special-y premise:  the flamboyantly "out" tenor Pharus (an extraordinary Jeremy Pope) leads the acclaimed gospel choir at an historically African-American all-male preparatory academy, and not everyone's delighted about that. We can see disaster coming, but we're left guessing about the exact angle. Will it arrive in the form of the flagrant homophobe, as embodied by Bobby (Wallace Smith)? Or will Pharus make a disastrous pass at his Straight But Not Narrow roommate AJ? (Charismatic Grantham Coleman makes this too-good-to-be-true character feel … true.) The Scooby whodunit doesn't kick in until late in the game, and feels barely necessary: McCraney and his top-flight director, Trip Cullman, have already painted a deep, lustrous canvas of life and moral complication in a modern black prep school. Savory wit, lively dialectics, gorgeously sung and staged musical sequences, and adult supervision from two greats, Chuck Cooper and Austin Pendleton, make a year at the Charles R. Drew Academy fly by much too quickly.