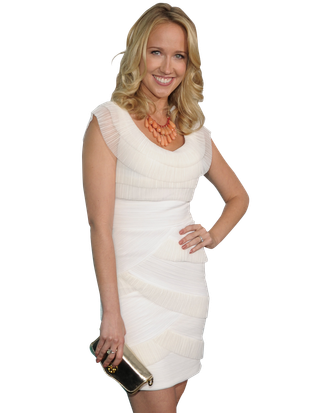 Anna Camp.
Photo: Dave Kotinsky/Getty Images
Steve Newlin was so happy to see his ex-wife, Sarah, walk through the door on last night's episode of True Blood, thinking she was there to save him, but Anna Camp's return to the show isn't as an angel of mercy. After her Fellowship of the Sun crusader/husband divorced her and turned vampire, Sarah Newlin became a best-selling author (Sundressed: The Sarah Newlin Story), which was referred to in the True Blood comics, and almost became a plot point in season five, when the show originally asked Camp to come back "just for a little TV spot talking about the book." (See the script for that here.) This time around, the part is much meatier, as Sarah promises to become a major adversary for the vampires in the coming battle. Camp chatted with Vulture about Sarah's danger heels, the song she blasts in her trailer before going on set, and a stunt gone awry.
Sarah Newlin is back!
Her triumphant return! Sarah Newlin is one of my favorite characters that I've ever played in my whole life! I just love her so much. I just think she's so crazy, and so funny. And they called this season, and they were like, "Can you come back?" And I was like, "Please! I would love to."
How much of a tell-all is her book, really? Would Sarah have disclosed what happened with Jason Stackhouse?
No, no, no! That stuff is really under wraps. She doesn't want anyone to know that she knows Jason Stackhouse, or that Jason Stackhouse knows her, or that they had an intimate relationship. She still has a soft spot in her heart for Jason Stackhouse, but she's also moving on to other places, romantically.
We as an audience discovered that Steve was gay and a vampire around the same time, but do you think Sarah knew that Steve also had a thing for Jason?
No! [Laughs.] What a crazy love triangle that would be; that would be so funny. I was dying for some crazy flashback about their marriage, because the last time you saw me, we were having the argument on TV, and he knows that I slept with Jason at that point. But in episode three, she confronts him for the first time about being gay and about being a vampire. She's discovered that only recently.
But she doesn't even go, "And you were gay the whole time we were married?!"
I know! I wish she had said that. I think she's afraid to admit it to herself. She's so scared that it might mean she was a failure. But I think she's more mortified that he turned into the very thing they were fighting against. It blows her mind. She'll deal with the gay thing later. If she makes it out of this season, she'll have another book to write, for sure.
What was it like being back on set, to get to come back and become one of the villains this season?
There are so many supernaturals on the show, which is fascinating — the faeries, the vampires, the werewolves — but it also boils down to how the human beings are relating to the vampire world. The vampires can symbolize any outcast in our society, and there is an epic human versus vampire battle this season, and Sarah Newlin is fighting right along with the humans. She's a woman who is very steadfast in her beliefs, and that can be scary, people who refuse to change, who refuse to open up their hearts and minds to differences in the world. So she's scarier. She's getting scarier by the minute. She's very dark. She's really crazy and vindictive. It gets really juicy.
She said she's gotten into politics?
She might run in the same circles as Governor Truman Burrell. I think she's really trying to out-shadow her ex-husband, and she's taking control of her life, and really wants to take back the power. [Laughs.] She's in power suits! That red dress, I was so stoked when I saw it. And Sarah Newlin's hair is such a part of my character; I just wanted to make sure she came back with it bigger than ever. I get in and I sit in rollers for about three hours in my trailer, and then they tease it out and make it really huge. The higher the hair, the closer to God! For one of the scenes, I got to pick whether she was wearing a cross or an American flag pin, like a sparkly pin. I was like, "You know what? I think she's graduated. I think she'd go for the American flag pin right now."
What's the deal with her spiky heels? They look like they could be a weapon.
Ding ding ding! They could be! A high heel can have a very meaningful job in a certain scene. [Giggles.] It's very Sarah Newlin. She may not be good with stakes or guns, but she knows how to work a high heel. And this is the first season where you get to see Sarah Newlin in a room with a vampire, and how she is confronted with everything she abhors, and how she reacts is pretty great. Sarah's a badass. She's more of a badass this season than I even expected her to be.
Did the cast tell you how impressed they were with you in Pitch Perfect? Did they ask you to sing for them?
No, not yet! I think I escaped that. I got an e-mail from Anna Paquin before I even came back for season six, saying she watched it with Stephen [Moyer] and they loved it so much. But whenever I hear a good Carrie Underwood song, I think about Sarah Newlin. Like "Before He Cheats" — like "maybe next time he'll think before he cheats"? That's a very Sarah Newlin number, and sometimes I'll blast that in my trailer before I go on set. Whenever I hear a Carrie Underwood song, I think, That's Sarah's jam.
So what was it that happened on set that landed you in the hospital?
Towards the end of the season, Sarah finds herself in a very physical situation, a very confrontational situation, and I was doing a bit of my own stunt work. I was fortunate to have a great, great stuntwoman with me, but during one of the takes, I rolled, I was on the ground, and I hit my head. I was in the middle of a chase sequence, and I had to continue the take and keep going, and I wasn't going to tell anyone that I hit my head, but about fifteen minutes later, I started getting very nauseous and dizzy. So we went to the emergency room as just a precaution — but in my whole wardrobe and giant hair, which was exciting! Everyone looked at me like I was crazy. It turns out that I had a minor concussion, but I'm totally okay! I just had to relearn how to tie my shoes. [Laughs.] Just kidding!