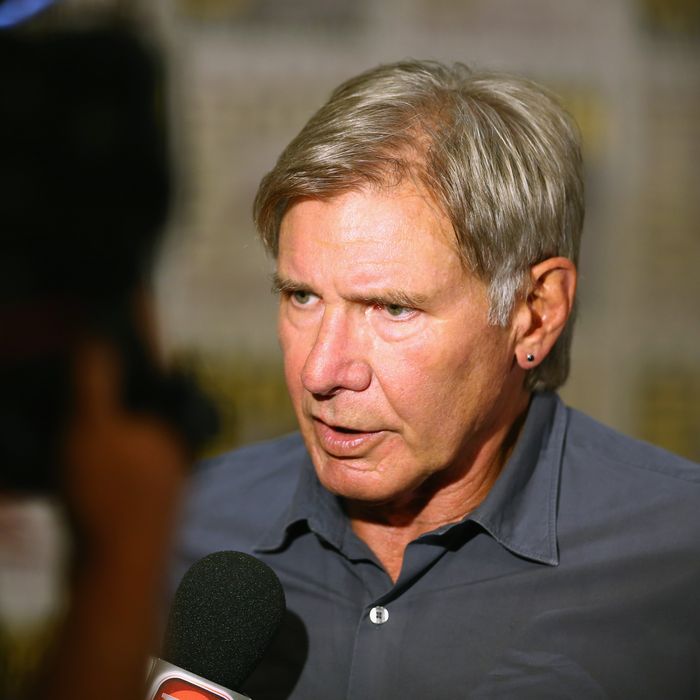 Harrison Ford at Comic-Con.
Photo: Joe Scarnici/2013 Getty Images
When Harrison Ford took the stage at Comic-Con's Hall H today, he picked up his name placard and stared at it, as surprised to find himself there as anyone. This isn't Ford's first time at Comic-Con — Jon Favreau coaxed him to show up once before in support of Cowboys and Aliens — but though he was there today to tout Ender's Game, Ford's not exactly a press-the-flesh glad-handler. He's more likely to sit on the end of the dais and look surly, speaking as little as possible. When Ender's Game director Gavin Hood was asked which prop he'd most like to take home, for example, he said his favorite inanimate object was "Harrison Ford." As Ford shook his head slowly in response, Hood cracked, "Look! He's moving!"
Suffice it to say, Ford can be one intimidating 71-year-old. And yet, when the Q&A portion of the panel opened, few fans queried him about Commander Graff, the character he plays in Ender's Game. Instead, two fans dared to incur his wrath by asking him the most dorky Han Solo questions possible.

"If Han Solo and Indiana Jones were to meet …" began the first questioner.

"Okay, I'm gonna stop you right there," said moderator Chris Hardwick as the audience roared.

"What'd he say?" asked a confused Ford. He squinted and slid his glasses off his nose, as though they'd gotten in the way of his hearing.

Resigned, Hardwick turned back to the questioner. "Oh, just do it," he said. "I wanna know, too."

The audience member continued his question: If Han and Indy met, "What would be their first words to each other?"

"What was it?" Ford murmured again. He still could not hear the question. Orci leaned in to whisper it to Ford, who then gave his answer — what Han would say to Indy — as though he was talking to a particularly slow four-year-old: "Hi. How are you?"

Yup, that'd be an epic meeting right there.

The next audience member told Ford that when he was little, he dreamed of being Indiana Jones "until a stolen rock broke my leg." (This is only medium-weird as far as things people say at Comic-Con.)

"Are you blaming him?" said Hardwick in disbelief.

"I'm congratulating him!" said the questioner. "So, Mr. Ford, do you think Han Solo would make a good soldier for Commander Graff's army?" Reader, the audience was cracking up as soon as the dude said, "Han Solo."

"You and I have a lot in common," replied Ford. "I used to dream about being Indiana Jones when I was younger, too. Not so much anymore." As the crowd laughed, Ford pulled off his glasses and drawled his closer: "And I don't think Han Solo would be good as a soldier in anybody's army. I think he's what we call now an 'independent contractor.'" Satisfied, Ford put his glasses back on. The audience hooted and hollered its approval. Yeah, he heard the question that time.