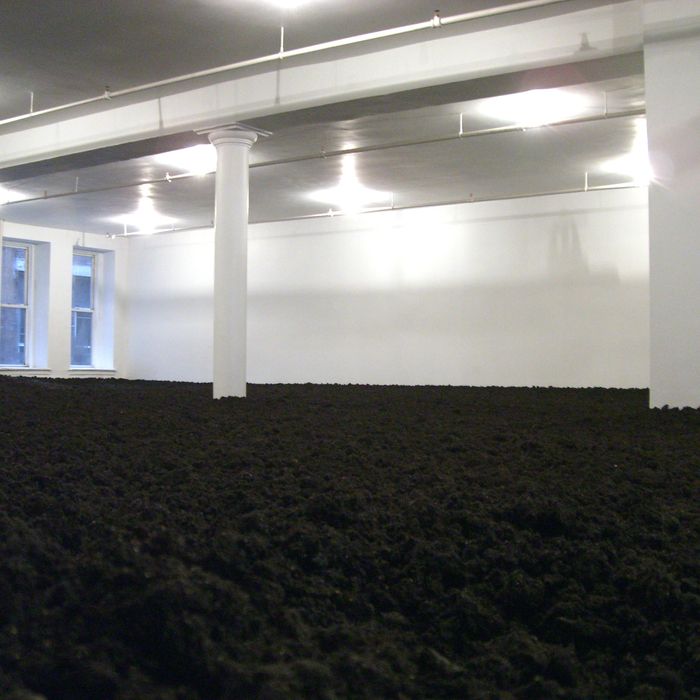 Walter De Maria's The New York Earth Room
Photo: C4 Gallery
I respect but never thought much about the romantic, sublime, monumental Minimalist-conceptual earth-work artist and DIA-made man, Walter De Maria, who died yesterday at the age of 77. Many of his vast installations of shiny geometric shapes and mathematical configurations laid out on the floor in regular grids and groupings (like the enormous sprawling Equal Area Series at DIA Beacon, or A Computer Which Will Solve Every Problem in the World (1984) featured at Gagosian Gallery in 2007, or even the famous permanent West Broadway installation Broken Kilometer) strike me as decorative-platonic and mainly photogenic. Yet I fully love one of his works: The New York Earth Room. The permanent DIA installation, which fills almost the entire second floor of a large loft space at 141 Wooster, fills me with ecstatic quiet, and quivers of the surreal sublime, implacable force of nature, nobility of architecture, and acuteness of the human senses. It is an almost perfect marriage of materials, space, phenomenology, and drop-dead wonder.
Originally executed in Munich in 1968, reinstalled in Damstadt in 1971, and then finally placed here in 1977, it is so simple it could easily provoke howls of "My ten-year-old could do that." But it never did. It is an interior earth sculpture made of 250 cubic yards of black soil filling 3,600 square feet at a depth of 22 inches. Its total weight is 280,000 pounds, and it has been on public view since 1980. I have been there scores of times. I have never not taken a class of students to this room. When I first arrived in New York and worked as a long-distance truck driver and dreamt of somehow being in the art world, I often went to this space and felt the ordinary but extraordinary, almost unbreachable power of art as something utterly real but always beyond words. That is the exact place I wanted to be but was too scared to try.
I experienced an almost shamanic transport of senses here. The smell of dirt was a magical madeleine that took me back to cutting between bushes and yards while taking shortcuts to school and getting wafts of a negative ozone of dampness and fundament. The sight was full but blank; it was an affirmation of physical abstraction. Entry is barred by a sheet of glass only a few inches higher than the dirt, the space physically impregnable, but I somehow filled it with myself. My vision, yes, but something bigger: my imagination. It made me feel the way I had as a kid when I'd lay on the floor, look up, and imagine the ceiling as the floor, marvel at the open space, the oddity of it all, the wildness. I looked for and found tiny sprouts growing. It made me grasp how sculpture could be dead and alive at the same time. That was the way I felt about myself back then.
The Earth Room always works as an early piece of Relational Aesthetics. Every time I've ever been there, whatever stranger is standing at the glass with me has begun to talk. I respond. It's like traveling together, pointing out things, sharing inner thoughts and experiences. Whenever I went there during the decade or so that I was a truck driver, I experienced waves of terrible spirit-killing envy for the two people (the same married couple the entire time I have lived in New York) who manned the desk at this piece. I coveted this job; they came in, raked the sculpture once a week, and read through their whole workday. The moment I finally stopped wasting my energy being envious — which turned out to only make me feel bad while not doing anything otherwise — is when I started becoming free enough inside to write. The Earth Room changed my life that way. To complete De Maria and DIA's karma, not long ago at the Met, the daughter of this front-desk couple introduced herself to me and told me that this job allowed her parents enough time to do their own work at home and to put her through college.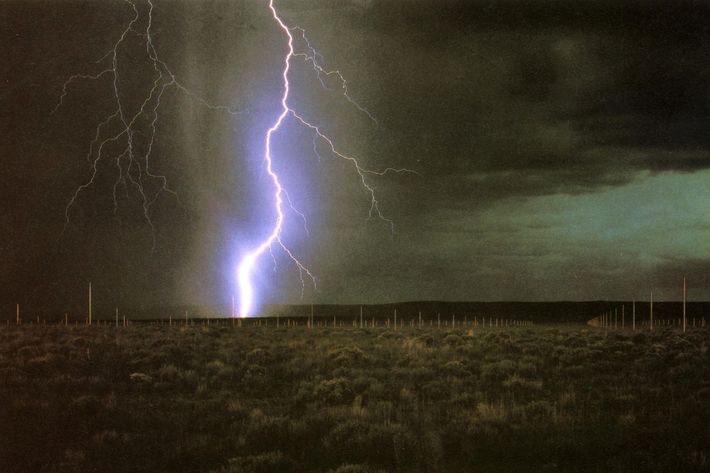 I have never been to De Maria's supposedly magnificent permanent installation Lightning Field (1977), which is laid out in the desert of New Mexico. In a grid measuring one mile by one kilometer stand 400 polished steel poles, averaging around twenty feet in height, and spaced 220 feet apart. These poles are meant to attract lightning; hence the piece's title. You book an overnight reservation between May and October, go to a cabin with a number of other people who are also booked, and walk around. (There's never been reservations when I've tried. When Phillip Vergne came onboard as DIA's new director we laughed as he told me, "I can't get a reservation this summer either.") By every account the experience, with or without lightning, is amazing. Again, a relational-aesthetics type of response is said to occur as you're essentially camping out and looking at art with strangers.
This and Earth Room are two majestic works that give us bodily confirmations of the power of scale, material, natural phenomena, and art.