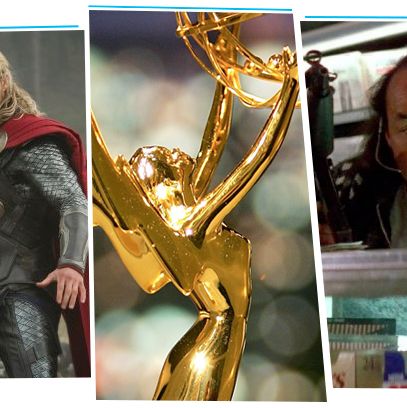 Every week, Vulture faces the big, important questions in entertainment, and comes to some creative conclusions. This week, we were excited about the Emmy nominations, the buzz coming out of Comic-Con, and Die Hard's 25th anniversary. You may have read some of these stories below, but you certainly didn't read them all. We forgive you.

Q: What is going to happen to Glee?
A: Fox is going to delay production and the show's premiere on account of the death of star Cory Monteith. His fellow cast members mourned his passing, while our own Jody Rosen remembered his musical talents and Margaret Lyons wrote a moving piece on being young and experience grief for the first time.
Q: What do I need to know about what's going on at Comic-Con?
A: If you weren't able to make it all the way out to San Diego, Denise Martin and Kyle Buchanan have it covered. Here are the panels we were most excited for, so you know what's to come. So far, we've got intel on the Ender's Game gay controversy, Sherlock's third season, the story behind two dumb questions you need not ask Harrison Ford (anymore), why everyone's talking about Divergent (Speaking of Divergent, how amazing is Divergent???), George R.R. Martin's thoughts on Game of Thrones prequels, info and a trailer for the upcoming season of Walking Dead, and ten revelations about the Veronica Mars movie.

Q: Why didn't they nominate [INSERT FAVORITE TV ACTRESS HERE] for an Emmy? She was robbed!
A: Oh, no! There were definitely some snubs. We feel you, as we, too, had lots of emotions about the nominations. Did you know that Liz & Dick (yep, that god-awful Lindsay Lohan Lifetime movie) got a nomination for Outstanding Hairstyling for a Miniseries or Movie? Now you do.
Q: I can't get over my love for Die Hard. What are some other awesome action movies?
A: Neither can we, and it's been 25 years; Bruce Willis is 58! To celebrate Die Hard's quarter-life crisis, treat yourself to a Twinkie and enjoy some tales from some of the film's scene-stealing bit players. Furthermore, Bilge Ebiri ranked the top 25 action movies since Die Hard.
Q: Why did you guys try and kill Ryan Gosling?
A: We obviously don't wish him harm! We just wanted to remember the good times, because we might not be seeing him for a while.
Q: Was R.I.P.D. really that horrible?
A: Yes, it was.
Q: What about Orange Is the New Black?
A: OITNB is wonderful. So great, in fact, that we've started recapping it.
Q: Did those people get out from under their dome yet?
A: Not yet. But we've been enjoying the puns.
Q: Are there people in this world who don't know the theme song to Doug?
A: Apparently.
Q: Why are you crying?
A: Oh, uh, that's just our seasonal allergies. And the following movies…