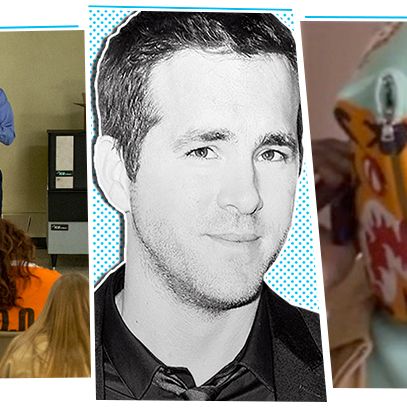 Every week, Vulture faces the big, important questions in entertainment, and comes to some creative conclusions. This week, we were excited about Orange Is the New Black, lesbians, Kanye West's failed comedy pilot, and streaming. You may have read some of these stories below, but you certainly didn't read them all. We forgive you.
Q: Comic-Con finally ended. What were the good parts, bad parts, and parts that need a little more discussion?
A:  Kyle Buchanan and Denise Martin ran through the conference's best and worst moments, including George R.R. Martin saying he's considering writing Game of Thrones prequel books, despite not finishing the actual series yet and much more. We also further explored two of the biggest stories to come out of Comic-Con: Buchanan looked at what we already know about The Avengers: Age of Ultron and Matt Patches offered a thorough history of Batman and Superman's relationship (coming off the news of their upcoming movie face-off).
Q: Who is having the best summer?
A: Though former Friday Night Lights cast members are doing super great, according to Margaret Lyons, "Lesbians Are Having the Best Summer Ever on TV."
Q: What's going on with this whole "streaming" business?
A: So much that we spent all week looking at it. Josef Adalian analyzed the state of Hulu, Netflix, and Amazon Prime. Looking to stream something right now? Margaret Lyons made a list of five shows to watch on Hulu, Bilge Ebiri listed four lost film treasures on Amazon Prime, and Jesse David Fox picked ten stand-up specials available on Netflix.
Q: Was Kanye West's Curb Your Enthusiasm-style HBO pilot the beautiful disaster we assumed?
A: No! Lindsey Weber reported from a screening of it and wrote, "it actually wasn't that bad at all."
Q: It might not be funny itself, but why is Franklin & Bash a classic pop-culture punchline?
A: According to Jesse David Fox, it's the show's specific mix of cast, lack of irony, and solid production. Also, there is that name. A lot of it is that name.  
Q: What do the people say is the song of the summer?
A:  Erica Schwiegershausen and Hilary Reid interviewed 100 people in Times Square and 125th St. and asked them for their song of the summer and other pressing summer music matters. They chose …
Q: What the hell is Ryan Reynolds's problem?
A: Or as Kyle Buchanan put it, "Why can't Ryan Reynolds become the big star that Hollywood wants him to be?" The answer is a mix of bad luck, bad choices, and, well, trying to be a movie star in a time when no one really is a movie star.
Q: If one were to rewatch the first season of Breaking Bad would it still hold up against the rest of the series?
A: Matt Zoller Seitz did exactly that, as the first installment of The Seasons series, in which he revisits classic shows year by year. His verdict: Not only is it still great, but it is much more moving than he remembered.
Q: Which member of the Orange Is the New Black cast voiced Doug's Patti Mayonnaise?
A: Yoga Jones! This is just one of the eleven fun facts Margaret Lyons and Lindsey Weber found out about the OITNB cast. If you want even more, we also have interviews with Taylor Schilling (Piper), Uzo Aduba (Crazy Eyes), and Pablo Schreiber (Pornstache).
Q: Woody Allen put out another movie? How is it?
A: He did and it's good! David Edelstein writes in his review of Blue Jasmine: "It's amazing how skilled [Woody Allen] is in making his old ideas seem fresh, lively, even urgent. His new drama Blue ­Jasmine comes this close to being a wheeze. But he sells it beautifully." While you're at it, take a look back at his other good movies via Jesse David Fox's comedic infographics of his work.
Also, watch Hugh Jackman scream a lot as Wolverine: