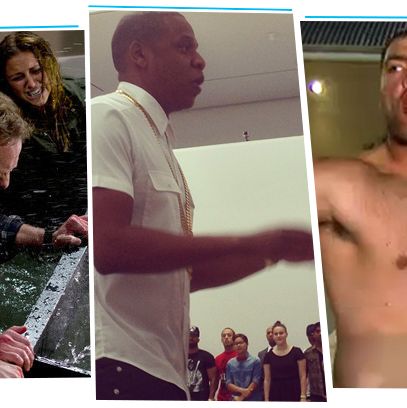 Every week, Vulture faces the big, important questions in entertainment and comes to some creative conclusions. This week we were all about Jay-Z's new album, classic Real World/Road Rules fights, and a little something called Sharknado. You may have read some of these stories below, but you certainly didn't read them all. We forgive you.
Q: What is it like to dance with Jay-Z?
A: Ask our art critic, Jerry Saltz, who attended a six hour performance of "Picasso Baby" that Hova put on this week at a Chelsea art gallery. "He started dancing. So did I, or at any rate what passes for an older balding Jewish man trying to bust some moves … Somehow, he'd taken me around my waist, and we were strutting around the room. My hands were ice cold. I was shaking. My reactions were shot." It's like that, but more. Read his very entertaining piece here.
Q: Okay. What is it like to listen to the new Jay-Z, album, then?
A: Not as cool, according to our music critic Jody Rosen. Read his disappointed review of Magna Carta, Holy Grail.
Q: Will Alan Cumming read anything that you put in front of him?
A: Yes, and it will be better than you could ever have imagined. Look at all his sheeee-it.
Q: What is a "kaiju?"
A: It's a Japanese word for "big monster." It's also what the beasts in this weekend's Pacific Rim are called. Nick Schager explains that, and four other pieces of source material, for Guillermo del Toro's blockbuster in this article.
Q: Does del Toro have an opinion about the length of modern Hollywood blockbusters?
A: He has opinions about many things, and most of them are either very smart or very funny. On movie length, he says, "All I know is that as an audience member, my ass meter starts ringing its fire alarm after two hours." Read the rest of the interview here.
Q: Have trailers gone buck wild with expensive-looking, explosive-sounding scenes?
A: As a matter of fact, they have. Matt Patches traces the evolution of the movie trailer money shot here.
Q: Does Hollywood make movies about women these days?
A: NOPE! But that was also true a decade ago, or a quarter century ago. Amanda Dobbins looked at the numbers and broke down the depressing results in chart form.
Q: What are the top ten Real World/Road Rules Challenge fights?
A: These are.
Q: Why isn't there a real successor to Six Feet Under?
A: Margaret Lyons is depressed by this fact, because that show was amazing.
Q: Why the eff was everyone talking about Sharknado on Friday?
A: Because it was terrible, obviously, and going to Twitter and making fun of bad movies is how we collectively deal with such material these days, according to Matt Zoller Seitz.