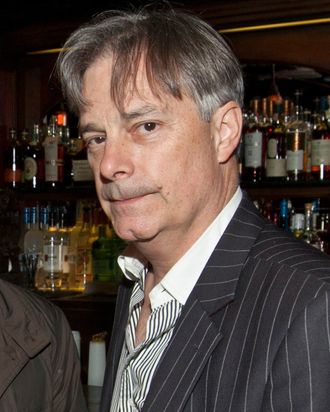 Whit Stillman.
Photo: ILIR BAJRAKTARI/Patrick McMullan
Whit Stillman appears briefly in Girl Most Likely, when Kristen Wiig's character, a playwright, is introduced to him. (We won't say more than that so as not to spoil the movie.) When we saw Stillman last night, at a screening of the movie hosted by the Cinema Society, he made clear just how self-conscious he was feeling about his cameo. "After seeing it, I'm going to definitely, definitely try to lose weight and maybe [get] plastic surgery," he joked. "Well, I'm going to definitely get some new clothes. And a better smartphone. [Pulls out his BlackBerry.] How bad do you think my cameo was?"
"We had no time at all to shoot it. I was sort of waiting around there, it was really late, it was very well timed to be two takes, and I think I probably looked the wrong way in one take, so they had one take where it looked terrible. I'm always surprised when I do a film, though, when they don't cut me out. It's always a good surprise. I always think, I'll be cut out. You're never very happy with it. You always think, I was lame." Stillman agreed to the role because he's friends with the directors, Shari Springer Berman and Robert Pulcini. "They had to shoot some extra stuff at the last minute, and they called me and just asked. And I have a thing where, if anyone asks me to do anything, I'm there. Because it's so hard making a film. So hard. So I said, 'Yes, definitely.'" And, clearly, he has no regrets.