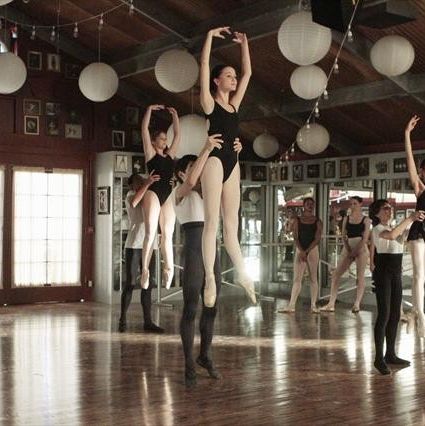 ABC Family has torn down the Bunheads sets. The network's new dramas The Fosters and Twisted are currently outperforming the numbers that Amy Sherman-Palladino's ballet series was pulling in. There's been no word yet on a second season, and it was not submitted for Emmy consideration, even though six other eligible ABC Family series were: Baby Daddy, The Lying Game, Melissa & Joey, Pretty Little Liars, The Secret Life of the American Teenager, and Switched at Birth. Altogether, these signs do not bode well at all for Bunheads being renewed. But — and it's a big but — the show hasn't been canceled either, a hopeful sign considering the last original episode aired in February: If the network wanted to be done with it, they'd be done with it. So let's indulge in some optimism, shall we, and focus on the reasons why it might come back.
By the end of its first season, Bunheads was enjoying the kind of passion and acclaim usually reserved for shows on HBO, AMC, and other networks that traffic in highbrow, water-cooler programming. Following the season finale, HitFix's Alan Sepinwall wrote, "All I know is that I want this messy, funny, emotional, idiosyncratic, fabulous little show to continue." Soon after, Time' James Poniewozik wrote an essay on the importance of Bunheads. The importance! And while the show lingers in limbo, The New Yorker's Emily Nussbaum, Salon's Willa Paskin, and BuzzFeed's Kate Aurthur, among others, continue to declare they want more.
The show has also grown into its home on the teen network. At first, the story revolved almost singularly around Michelle (Sutton Foster), a 35-year-old dancer past her prime whose life is turned upside down when on a whim she marries an adorably obsessive fan (Alan Ruck) and relocates from Vegas to his mom's house in the quirky coastal town of Paradise. After he dies suddenly and tragically in a car accident, Michelle begins to reluctantly and slowly warm to his mom (Kelly Bishop) and her ballet students. But by the end of the first season, the four student ballerinas — Boo, Ginny, Sasha, and Melanie — had come into sharper focus. (Boo and Carl, take me away! Sasha, let it all out!) They don't solve murders like the glam squad on Pretty Little Liars, ABC Family's most watched show, or apologize as much as the kids do on the earnest Switched at Birth, but they do chat. A lot. About nothing and everything and at Sorkin-esque speeds! They also dance. And not just the kind of dancing that looks super cool but ballets that comment on crazy stuff like recycling and express hard stuff like sex and repressed rage and even being let down by your parents.
It's not the kind of OMG TV that breaks Twitter on a weekly basis, but patience was previously rewarded on another Sherman-Palladino series, Gilmore Girls, which survived for seven years on the WB, gaining an audience as it went along and hitting ratings highs in its third season. New viewers right now could be getting to know Bunheads, currently streaming on Amazon Prime and Hulu Plus. When ABC Family executives bought the show, they knew all about Sherman-Palladino's special brand of low-key drama, building character-driven stories at a less frenzied pace and often without emphasis on plot. The network's head of programming, Kate Juergens, had worked on Gilmore back when she was an executive at the WB, and ABC Family had been living off the great ratings of Gilmore reruns for years before it gained traction with original shows. Bunheads might grow its audience yet!
And that brings us to the subject of the show's ratings, which weren't great, but not a disaster either. (If they were untenable, ABC Family would have called curtains on Bunheads as fast as they did The Nine Lives of Chloe King and Jane by Design.) The series finished the first half of its season last summer slightly ahead of its Secret Life lead-in (averaging 1.38 million viewers vs. 1.36 million for premiere episodes). It slipped a bit when the second half of the first season returned in January, albeit opposite stiffer competition from the broadcast networks. First-run episodes for The Fosters and Twisted, meanwhile, are currently averaging 1.57 million viewers and 1.45 million, respectively — not yet a statistically significant victory.
ABC Family will likely make a decision on whether or not to renew Bunheads this month, after the cumulative numbers for their new shows come in. One possible complicating matter will be The Lying Game, a show also awaiting a renewal albeit without as much ink devoted to its fate. But let us hold out hope and not look for doomsday signs. Instead, let us relive "Istanbul," the ballet boys' impressions of Tommy Lee Jones in Hope Springs, and that last conversation between Michelle and Ginny about her banana, Frankie (sniff). Sure, the Bunheads sets are in storage, but it's not uncommon for shows to strike sets between seasons. Melissa & Joey, for example, has switched soundstages every single season — and, thanks to ABC Family, that show got an early green light for season four and an Emmy bid.