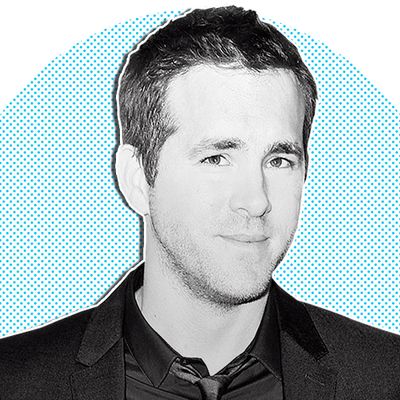 Photo: Daniel Zuchnik/FilmMagic
It just wasn't a good weekend for Ryan Reynolds. The affable 36-year-old toplined two movies out last Friday, and both bombed: Would-be franchise-starter R.I.P.D. cratered with a measly $12.7 million opening, while the animated Turbo offered no respite, its $21.3 million take coming in way below studio hopes. A scant four years ago, Hollywood rushed to anoint Reynolds as its next big movie star after his co-starring role opposite Sandra Bullock in The Proposal lifted the film to an amazing $163.9 million, one of the highest-ever grosses in that genre. So why has he had such a hard time finding a blockbuster since? After all, we're talking about a talented, likable actor who seemed much more deserving of movie stardom than your average sullen Twilight lead … and yet, Ryan Reynolds can't seem to make it work. Here are three theories on why that is and what he can do about it.
1. Ryan Reynolds has had bad luck, but he can rebound.
Try to understand: A lot of those underperforming movies might have looked good on paper! Every actor in Hollywood was trying to win the title role in Green Lantern … unfortunately, Reynolds ended up in a superhero franchise that couldn't get off the ground. Buried was a one-man showcase intended to prove his range … but the claustrophobic conceit proved a turn-off to audiences. The Change-Up was an R-rated comedy released the same year that The Hangover Part II became the fourth biggest R-rated movie of all time … and yet it barely outgrossed the comedies that Reynolds made before Hollywood decided he was an A-lister. Could it be that people were simply rejecting the movies, not Reynolds himself?
A string of misfires doesn't necessarily preclude a big career; in fact, most stars go through a bumpy patch at some point. Take Bradley Cooper, a peer to Reynolds who's in a great place now — Oscar-nominated last year for Silver Linings Playbook, Cooper has got highly anticipated dramas American Hustle and Serena on the way — though he only attained that success after years of struggling in subpar movies. In fact, the same year that Reynolds had a big success with The Proposal, Cooper co-starred with Sandra Bullock in the risible, Razzie-nominated All About Steve! But after a few more misfires, including the action dud The A-Team, Cooper has gotten into a good groove by working with smart auteurs like David O. Russell and Derek Cianfrance. If Reynolds would simply ditch studio hacks like David Dobkin (The Change-Up) and Robert Schwentke (R.I.P.D.), maybe he could turn his luck around.
2. Ryan Reynolds has made bad choices, and it's too late.
Still, even if you take a charitable view toward Reynolds and his movies choices, it's hard to wash off all that box-office stink: The optics of this past weekend weren't good for him, and he's unavoidably tainted now. (Even back in 2011, on the eve of Green Lantern's bow, a top agent groused to us, "I don't know why he'd squander the capital from the Sandy Bullock movie to do this.") On the casting short lists that Reynolds used to top, risk-averse studio executives are now more likely to prefer known commodities like Mark Wahlberg, and while actors like Channing Tatum and Ryan Gosling have had their own box-office disappointments this past year, they're still more likely to get an offer than the erratic Reynolds.
Regardless of his potential, then, Reynolds has developed a reputation as someone who stars in bad movies; if he wants to change that, he may have to stop starring in movies altogether. Finding a marquee series on HBO — something that could play to his comedic strengths, but also let him show a sophisticated side — could help Reynolds to reinvent himself. Or, if he's not willing to move to the small screen just yet, Reynolds could lobby hard for some juicy supporting roles in movies that aren't sold on his own star power.
3. Ryan Reynolds simply isn't a movie star … but who is anymore?
Since the nineties, Hollywood has done a terrible job of creating bankable new movie stars, and maybe Reynolds is just part of a larger problem. The Proposal seemed like a game-changer for him at the time, but established favorite Sandra Bullock was the real crowd draw there, just as the presence of Denzel Washington — the most consistent box-office behemoth in Hollywood — gave Reynolds his only recent hit with last year's Safe House. Bullock and Washington are legacy movie stars who will always command a loyal, older audience; meanwhile, a new-schooler like Reynolds must woo a decidedly more fickle demographic that's more likely to stay at home than go to see a movie just because it stars Blake Lively's husband.
It hurts, too, that the genre that seemed so perfect for Reynolds to conquer, the romantic comedy, has just about vanished from movie theaters since The Proposal gave him his big breakout in 2009. Over the past four years, only two of those precious few rom-coms have even passed $100 million, and both of them — Silver Linings Playbook and Valentine's Day — starred Ryan's chief rival Bradley Cooper. An amiable hunk like Reynolds, whose most devoted fans are women, needs a steady stream of rom-com vehicles to shore up his waning appeal. But is it any coincidence that as our stars seem to get smaller, the most star-dependent of movie genres begins to wither, too?
Then again, maybe the problem is more that the public has never cared that much about Reynolds in the first place: Yes, he still lands magazine covers, but it's one thing to be a celebrity, and another thing altogether to be a bona fide movie star. Even if he were able to clear that bar, it's obvious that movie stars don't have the same hallowed place in the firmament that they used to … not when there are TV stars, reality stars, and YouTube stars all jockeying for the same piece of the cultural conversation. Could it be that in Hollywood's mad rush to make new movie stars, they pin their hopes and dreams on the wrong people, christening celebrities before they're ready? In other words: Don't feel bad for Ryan Reynolds. It's bad out there for everybody.