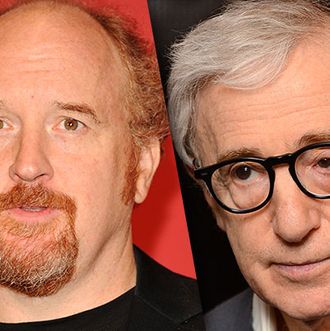 When we learned that Louis C.K. was using Woody Allen's longtime editor Susan E. Morse and acting in Allen's Blue Jasmine, we got excited that the two greatest redheaded comedians ever (sorry, Carrot Top and Kathy Griffin) were going to become best friends. It seems like our wishes came true. Allen, in an interview with the New York Times, said he didn't know C.K.'s work beforehand, first seeing him while trying to watch Bobby Cannavale in one of C.K.'s short films. "He's clearly such a sweet guy. I was dying to use him in something, so we used him to play the sweeter guy [in Blue Jasmine]," Allen explained. But Allen doesn't see this as the last time the two will work together:
I'd love to do a movie with him and me, a comedy. I'm looking for some idea that would work, for the two of us to do. Of course I hope that people aren't disappointed that I don't act with him [in Blue Jasmine], and he doesn't have a commensurately comic part with his talent. But some day, I will get something that we could do together, because I do think it would be fun. I'm such a great fan of his. "
Allen explained that he racked his brain — "What would be a fun picture? My first thought for a while was, Can I come up with something at the moment that I could do with Louis C.K.?" — however, he couldn't get the "right idea" for them before he needed to start working on another movie (which became the upcoming Emma Stone–Colin Firth movie).
It was watching another comedian, Mort Sahl, recently, however, that made Allen start "toying with the idea" of trying stand-up again. "I would love to see if I could," he explained. "Just getting together an hour of stuff to talk about would be a lot of work." If only Allen were famous for constantly working … oh wait.