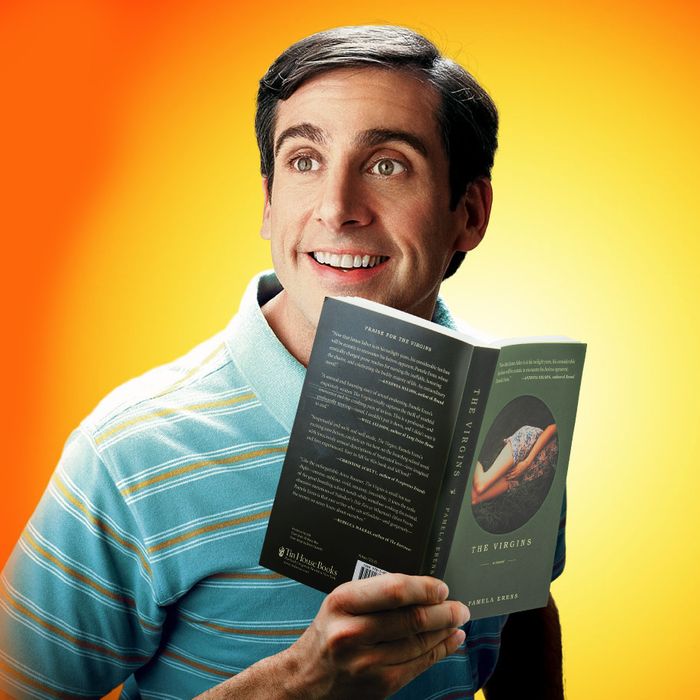 The virgin holds a mythical place in our culture. Virginity is a prize, something to cherish, protect, and/or conquer. In Virgin: The Untouched History, Hanne Blank notes, "Virginity is as distinctively human a notion as philanthropy. We invented it. We developed it. We disseminated the idea throughout our cultures, religions, legal systems, bodies of art, and works of scientific knowledge." Nowhere does this human notion flourish more than in literature.
From the New Testament of the Bible to Jane Austen's chaste women and the sultry sexuality of Nabokov's Lolita, we have seen writers grapple with the subject of virginity as it pertains to being unbroken, unclaimed, and unexplored. Even vampires get in on the act with the Twilight trilogy, placing Bella's virginity at the sacrosanct center of the narrative. Or, put another way, you know virginity is a big deal when a vampire breaks a bed frame as he breaks his new wife's hymen.
Virginity is treated with far more grace and subtlety in Pamela Erens's latest novel, The Virgins (Tin House Books), a beautifully written story about two outcasts who form an all-consuming bond at an exclusive boarding school, as told, in secretive, sweaty detail, by a rather odious classmate. In fact, much of what is written about virgins is fueled by secretive, sweaty desire; the best modern novels on the subject — like the ten I've selected below — tell a story that, as in The Virgins, transcends the easiest or least of what we know about virginity. Such novels tackle the more complex question of what it means to surrender to a desire for the very first time. The attention is placed on the person in the virgin body rather than he or she who means to conquer that body, and sexuality becomes the beginning rather than the end of the story.
The Virgin Suicides, by Jeffrey Eugenides (1993)
In The Virgin Suicides, we know what's at stake from the outset, the title doing so much of the work of preparing us for the story to come. It is the seventies and the Lisbon family boasts five daughters, ages 13 through 17, who are budding with sexuality while their strict Catholic parents do everything they can to keep the girls cloistered at home, pure, and, well, intact. This is also a story mediated through someone else's gaze — the boys of the neighborhood who covet the sisters and who can only watch helplessly as the young women succumb to circumstance, their parents closing them off from the world ever more until one by one, the Lisbon girls end their lives rather than remain subjected to an overly constrained existence.
Forever…, by Judy Blume (1975)
Judy Blume is a foremost chronicler of adolescence and the ways it is fraught. When Forever was first published in 1975, it was groundbreaking in its frankness about sex, birth control, and young bodies and what they do together. In Forever, Michael and Katherine negotiate love and desire after meeting on New Year's Eve. Throughout the novel, the couple spends an inordinate amount of time discussing sex. Along the way, we learn Michael's penis is named Ralph, the most indelible of details. They are both young and naïve enough to believe their love will last forever, and Blume makes us believe Michael and Katherine will overcome all the obstacles standing in the way of young love. At times, the book feels overly didactic, but given the time in which it was written, Forever strikes just the right note as a tender and true story about young sexuality.
On the Island, by Tracy Garvis Graves (2011)
Some books are just plain fun. On the Island is a May-December fairy tale — and the virgin here is a young man, T.J. When the novel begins, teenage T.J. is recovering from cancer and he has all the attitude of a young man with a new lease on life. His family hires Anna, 31, to tutor T.J. while they summer in the Maldives, only their plane crashes and Anna and T.J. are stranded, alone, on a deserted island. Weeks become months become years. There are all sorts of calamities — sickness, personal hygiene challenges, a menacing shark, a tsunami. T.J. finally turns 18, and he and Anna give in to the growing attraction they've tried to keep at bay. They are, after all, fit and tan from island life. When Anna and T.J. finally get off the island (see what I did there?), the happiness they've found may not survive even though they have. T.J.'s virginity, though, has been taken well and thoroughly in hand.
The Lover, by Marguerite Duras (1984)
The prose in The Lover by Marguerite Duras is exquisite, lush, and deftly evokes the time and place in which the novel is set. The Lover is the story of a complicated affair between a young French girl and her older Chinese lover in Indochine in 1929. Where most literary "first times" are rendered through cliché, Duras wields a fine touch. "And, weeping, he makes love. At first, pain. And then the pain is possessed in its turn, changed, slowly drawn away, borne toward pleasure, clasped to it. The sea, formless, simply beyond compare." The whole of this novel is beyond compare and it offers a portrait of a young girl who is empowered rather than irrevocably harmed by her first, passionate love affair.
Towelhead, by Alicia Erian (2005)
Jasira has been sent to live with her Lebanese father in Texas because her mother's boyfriend behaves inappropriately toward her. From the outset, this young girl, at the nascence of her sexuality, is a problem that must be solved, preferably from a distance. This is exacerbated when a neighbor begins to take advantage of Jasira in her Houston neighborhood, but Towelhead is not another sad, sad story. It is a coming-of-age tale about a young girl coming to terms with her body and what people want from it, and what control she can have over what happens to her. It's also about how young women can be failed by people with even the best of intentions, and how there is solace to be found in unexpected corners.
Maidenhead, by Tamara Faith Bergen (2012)
While vacationing with her family in Florida, Myra meets the intriguing Elijah. She wants something from him — to lose her virginity to him—but Myra returns home with her desire unfulfilled. She is surprised, when back home in Canada, Elijah shows up with Gayl, a woman who seemingly controls Elijah and, in turn, will control Myra herself. The three enter into an increasingly depraved relationship, marked by violence, pornography, and lust. Maidenhead is not simply a novel about virginity; it is a sharp examination of young female sexuality, race, and the ways people subject themselves to get what they want. Maidenhead is a manifesto, as vivid as it is angry. Maidenhead is a reminder that stories about virginity can be nuanced and complex and about far more than unchartered territory.
Invisible Life, by E. Lynn Harris (1994)
E. Lynn Harris's Invisible Life was groundbreaking in exploring a black man's budding attraction to men. Raymond Winston Tyler Jr. is young, successful, and attractive. During his senior year in college, he falls into a relationship with Kelvin, a star football player, and has his first sexual experience with a man. Though their relationship is cut short, Raymond moves into his professional life in New York City, where he practices law and lives an invisible life, in the closet, but wanting more. This book is often raw, but it does a fine job of exploring the complexities of race and class and sexuality in ways we rarely see in mainstream literature.
The Story of O, by Pauline Réage (1954)
The Story of O is hypnotically erotic and terrifying in how quickly the book brings you into its world. In this slender novel, O is a young Parisian photographer, ushered into the S/M lifestyle by her lover. Before long, she has become completely submissive, subsuming herself for her master's desires. It is the suffocating totality of O's submission that is so compelling. She gives herself over until there is nothing left to give and still, we are left believing O might still give more. The transformation of O, from a virgin to kink into a full-fledged aficionado, is as stark as it is breathtaking.
Crash, by J.G. Ballard (1973)
Sexuality and speculative fiction offer an interesting location for storytelling. Crash is a strange book about a new kind of sexuality, one where people are aroused by car crashes — ravaged metal, shattered glass, the destruction of the human body, bloodied against leather seats. In the novel, James Ballard and his acolytes drive themselves further and further toward some manner of sexual satisfaction. As the narrator says in the novel, "I wanted to rub the human race in its own vomit, and force it to look in the mirror." This could stand, in many ways, for what always happens when we have sex — facing the most repulsive, most honest parts of ourselves.
"Virgins" in Before You Suffocate Your Own Fool Self, by Danielle Evans (2010)
All the stories in Danielle Evans's Before You Suffocate Your Own Fool Self are formidable, but the collection's first story, "Virgins," follows Erica, a young woman determined to lose her virginity, and in her quest to do so, she has sex with the wrong man. "Virgins" is about much more than that, but it primarily reveals how even at a young age, our choices have consequences for which we may not be prepared, and how all too often, virginity is hardly about the woman to whom it belongs. Virginity is, unfortunately, what people make of it.