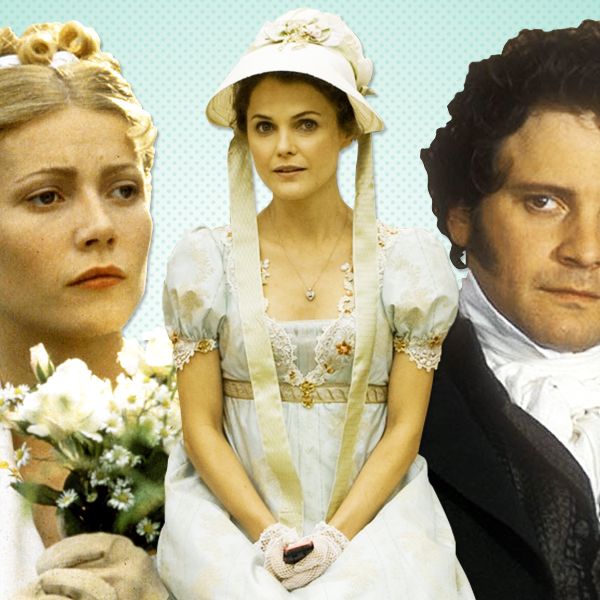 This month's Austenland stars Keri Russell as a drippy Jane Austen fanatic who shells out her savings for an immersive Regency experience — complete with fake proposals and, at least for our heroine, real romance. It's the latest entry in an Austen film canon that includes period adaptations, modern updates, and meta-films about contemporary Janeites, unhappy in love, who yearn for a simpler and more corseted time — or perhaps just for Colin Firth as Mr. Darcy.
I went into this exercise — ranking the following 21 Austen and Austen-adjacent films — believing that I was impartial. But like Lizzy Bennet, I was confronted by my pride and prejudice in favor of a few that premiered when I was an impressionable young lady unacquainted with the ways of the world. Apparently, the mid-nineties were the best years for Jane Austen fans since the early 1800s. Express your pert opinions about the ranking below, but be civilized.
(Note, all listed are feature films unless noted.)
20-21. Mansfield Park, 1999 and Mansfield Park, 2007 (ITV miniseries)
Which is worse? A weird postcolonial reimagining of Mansfield Park that adds so much pluck and personality to insipid heroine Fanny Price that she can't rationally function in Austen's plot — or a version as meek and bland as poor Fanny at her mousiest? Fans will debate (I actually like the former), but no one has done this novel real justice yet. Screenwriters, take note.
19. Becoming Jane, 2007
A liberty-taking biopic, it commits the travesty of suggesting that Austen's work was inspired by a man who trifled with her affections, fed her her cleverest lines, and then left her alone so she could marry her work. But it's also a travesty because, well, we know Jane Austen. And Anne Hathaway, you are no Jane Austen.
18. Austenland, 2013
I'm loath to disparage a film that's slapsticky and well-intentioned. Unfortunately, this movie — which bears the producing imprint of vampire virtuoso Stephenie Meyer — has almost no direct jokes, references, or ideas about Jane Austen, beyond a love interest who, like Mr. Darcy, is rude. Moreover, it seems to suggest that Austen fans are all lovelorn spinster types with teacup collections and the hots for anything male in breeches.
16-17. Emma, 1996 (feature film) and Emma, 1996 (BBC miniseries)
Both of these Emmas are watchable and faithful enough, and Kate Beckinsale's performance as the "handsome, clever and rich" Emma in the BBC version is laudable — particularly compared to Gwyneth Paltrow, whose quivering lips when Emma doesn't get her way (is she even acting?) suggest all of the character's brattiness, but none of her charm
15. The Jane Austen Book Club, 2007
From the Karen Joy Fowler novel, this pleasant romantic comedy concerns itself with Austen-adoring West Coast singletons who must confront their own blindness before they can properly pair off. That makes them just like Austen's characters — we get it! — unfortunately, they're unmemorable in comparison.
14. Miss Austen Regrets, 2008 (BBC film)
The creators of this sometimes dull, sometimes diverting biopic thankfully didn't invent a Great Love for the never-married author. Warning: contains scenes of Austen's final illness that will leave fans sobbing.

13. Pride and Prejudice, 1940
Lawrence Olivier's Darcy smolders while Greer Garson's Lizzy twirls around in a Scarlett O'Hara–size hoop skirt. This classic Hollywood take on Austen is more a product of its era than of Austen, committing the colossal error of redeeming the novel's irredeemable snob, Lady Catherine De Bourgh.
12. Persuasion, 2007 (ITV adaptation)
Many fans passionately adore this Persuasion, but it's controversial owing to a scene featuring Anne Elliot, played by Sally Hawkins, breaching decorum to hoof it at length throughout the streets of Bath (viewers dubbed it the "Bath Marathon" and made parody videos). That, in addition to the fact that it ends with a property purchase instead of its characters going to sea as Austen intended, verge toward sacrilegious.
11. Sense & Sensibility, 2008 (BBC miniseries)
Andrew Davies, who wrote the 1995 BBC Pride & Prejudice, tried to replicate his success more than a decade later with another miniseries chock-full of sublimated sexual frustration. See the scene in which Dan Stevens (Downton Abbey's Cousin Matthew) chops wood in the rain or the opening scene of one of Austen's notorious rakes mid-seduction. Yet much as Davies tries to "sex up" Austen, his screenplay revels in her turns of phrase and sharp observations.
10. Bride & Prejudice, 2004
Bend It Like Beckham director Gurinder Chadha married English lit with Bollywood, focusing on a cross-cultural romance between arrogant American hotelier Will Darcy and feisty Indian farmer's daughter Lalita Bakshi (Aishwarya Rai). Appropriately over-the-top musical numbers can't obscure Chadha's genuine homage to Austen, and to the film traditions she loves.
9. Northanger Abbey, 2007 (ITV movies)
A sliver of a film based on Austen's zippy send-up of the Gothic novel. Social intrigue and a visit to a spooky Abbey are seen through the wide eyes of Catherine Morland who naively believes life is like her favorite books, with a mystery behind every curtain. It's a perfect rainy day film — and, ahem, a commentary on overzealous fandom.
8. Lost in Austen, 2008 (ITV miniseries)
An irreverent but delicious miniseries, Lost in Austen follows a Darcy-obsessive named Amanda Price as she steps through a portal in her loo and enters Pride and Prejudice — leaving Lizzy Bennet in 21st-century London. Naturally, Amanda tries and fails to keep the plot of her favorite novel from running off course. She even urges her Mr. Darcy to dunk in a lake, Colin Firth style (we'll come to him shortly), so she can enjoy a "postmodern moment."
7. Pride & Prejudice, 2005
Joe Wright's vehicle for Kiera Knightley's pouting mouth is almost ruined by an icky tacked-on ending for American audiences: the Darcys in their nightclothes by what looks like the Chateau Marmont. But it's lush and heartfelt, and its popularity brought a new generation of fans onto Team Jane.
6. Bridget Jones's Diary, 2001
Compulsively quotable, Bridget Jones is a rom-com jewel and a giant Austen in-joke. Good old Bridge, a gamely curvy Renee Zellweger, works at "Pemberley Publishing" and is drawn to a haughty barrister named Darcy, played by Firth. While he never dons a wet shirt in the film, he does wear an appalling reindeer jumper.
5. Emma, 2009 (BBC miniseries)
The number of times Romola Garai's Emma smirks and rolls her eyes in this miniseries' first installment alone is off-putting. But those who stick around for subsequent episodes are rewarded with a gorgeous, slow-burn revelation of Emma's awakening from adolescent myopia, and a romance with her upstanding pal, Mr. Knightley — played by a surprisingly convincing Jonny Lee Miller.
4. Persuasion, 1995 (BBC adaptation)
If we could write this film a letter we would say, as hero Captain Wentworth does, "You pierce my soul." It's a quiet, searing interpretation of Austen's tale of thwarted love blooming again. Weatherbeaten actors and drizzly English skies set the tone, and when Anne Elliot (Amanda Root) and Captain Wentworth (Ciarán Hinds) reconcile in the film's next-to-last scene, a traveling circus passes by, conveying the oh-so-subtle message that our hearts and theirs are doing backflips.
3. Clueless, 1995
Anchoring this reimagining of Emma in a posh Beverly Hills high school, Alicia Silverstone's Cher Horowitz fully embodies the meddlesome, privileged, and yet endearing essence of Austen's most complex heroine. For all the instantly classic lines that director and screenwriter Amy Heckerling bequeathed us ("she's a full-on Monet"), an entire generation is grateful. And while Clueless may not have any cravats or breeches, it does feature young Paul Rudd in flannel. That will suffice.
2. Sense and Sensibility, 1995
Strictly speaking, this Ang Lee film from Emma Thompson's screenplay about the Dashwood sisters and their suitors isn't the most faithful. And yet it's a triumph, a female screenwriter riffing off Austen to create something enduring. Kate Winslet's Marianne Dashwood, inflamed by Romantic sensibility and a rainy rendezvous, declares, "What care I for colds when there is such a man?" Thompson's Elinor Dashwood, making sense, replies, "You will care very much when your nose swells up." Point: Sense.
1. Pride and Prejudice, 1995 (BBC miniseries)
It aired on TV, caught on like wildfire, launched the terms "Austenmania" and "Darcymania," and paved the way for most of the films above. Today, five hours of a flawlessly witty screenplay by BBC maestro Andrew Davies (and a perfect turn as Lizzy by Jennifer Ehle) are mostly remembered for That Scene: the mere seconds in which Colin Firth as Darcy emerges from the lake at Pemberley, only to bump into Lizzy. This awkward/hot moment has been commemorated in a twelve-foot statue, referenced in so much other Austen-inspired entertainment, and enshrined in the hearts of viewers struck by the Darcy thunderbolt. But true fans of this series know there's more than wet shirt Darcy here: There's also lustful bath-taking Darcy and aggressive-fencing Darcy who vows, of his passion for Lizzy, "I shall conquer this!" Spoiler alert: He does not conquer that.