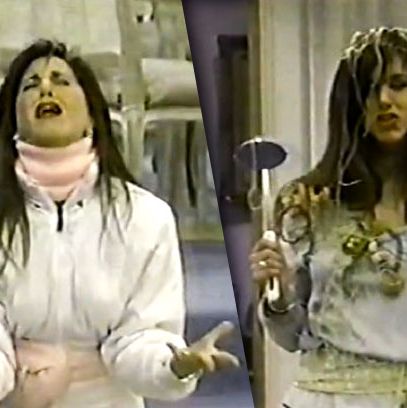 One late night in 1994, Jennifer Aniston pulled into a Sunset Boulevard Chevron station, self-doubting and distraught. Her timing was impeccable: Gassing up across from her was Warren Littlefield, the then-president of NBC's entertainment division, a man with the power to make actors into superstars. Aniston approached him and asked a plaintive question about her career, the kind of thing actors can't help but wonder after four failed sitcoms in a row: "Is it ever going to happen?"

Littlefield assured her it would, and months later, he made good on his promise by handing her the script to Friends, which turbocharged Aniston's career and sent her into the big leagues. But what was life like for the We're the Millers actress before that happened? Here are the four sitcoms Aniston banked before her breakout role on Friends; read, watch, and prepare yourself for hot, concentrated blasts of nineties nostalgia.
Molloy (1990)
Have you ever wondered what you'd get if you shot Blossom on the set of Small Wonder and added a 21-year-old Jennifer Aniston to the mix? The product of that unholy recipe is Molloy, a family sitcom starring Mayim Bialik (who's already working the hat thing that she'd later perfect on Blossom) with Aniston as her spoiled sister. You absolutely need to watch the promo for it that we have embedded below; in a cruel twist of fate, the ad for Aniston's Fox show was preceded by an ad for Brad Pitt's Fox show, the short-lived drama Glory Days, because of course.
Ferris Bueller (1990-1991)
More typecasting for Aniston: After playing the spoiled sister on Molloy, she got a gig as another spoiled sister on the TV adaptation of Ferris Bueller's Day Off, starring Charlie Schlatter in the Matthew Broderick role. Aniston played the part that had been Jennifer Grey's; ironically, Grey would go on to star in the ABC sitcom It's Like, You Know, one of the many nineties comedies to follow in the footsteps of Friends. You can see a lot of Aniston's Friends character Rachel in this compilation of her best Ferris Bueller moments … she even lusts after a hunky Italian, much like Rachel pined for Paolo on the first season of Friends.
The Edge (1992-1993)
Jennifer Aniston, sketch comic? In addition to two stints hosting Saturday Night Live, Aniston was part of the cast of The Edge, a Fox sketch series toplined by Julie Brown (the cast also included Wayne Knight, Bridesmaids director Paul Feig, and Alan Ruck — another Ferris Bueller connection!). The series ran concurrently with Fox's In Living Color, but wasn't nearly as successful, surviving only for one season. Fortunately, YouTube has preserved Aniston's most notable moments from the series, including a sketch that is mostly just long, slow pans of Aniston's swimsuit-clad body, as well as a 90210 spoof (she played Jennie Garth!) that incurred the real-life wrath of Aaron Spelling.
Muddling Through (1994)
Aniston's final failed sitcom was Muddling Through, a CBS comedy about a woman who does two years for shooting her philandering husband in the ass, then learns that her eldest daughter (Aniston) has married the state trooper who arrested her. Complicated! And, like many of Aniston's other sitcoms, doomed to failure: Muddling Through was such a bomb that even though Aniston was under contract to the show, Littlefield cast her in Friends anyway, so certain was he that Muddling Through would soon be cancelled. There used to be episodes of Muddling Through on Crackle, but since they've been pulled, enjoy this YouTube video updating us on the "where are they now" fates of its otherwise-unknown cast. For no good reason, Aniston is shoved in the middle of the video, where the maker informs us that she has won "25 prestige awards."