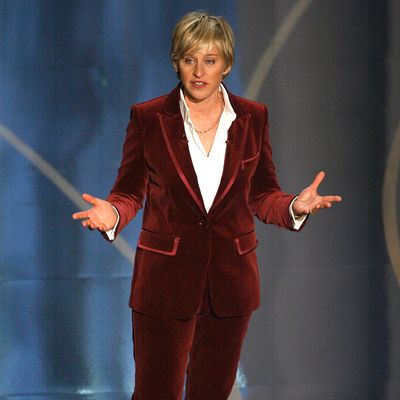 Photo: Kevin Winter/Getty Images
We've got an Oscar host! The Academy of Motion Pictures Arts and Sciences announced this morning that Ellen DeGeneres would return to the Academy Awards as emcee, marking her second hosting stint. What are we to make of this news? Here are five immediate thoughts I had about why AMPAS picked DeGeneres … and what it will mean for the next Oscarcast.
1. The new Academy president wants to convey stability.
On Tuesday night, AMPAS elected a new president in Cheryl Boone Isaacs, the first African-American to nab the title and only the third woman. The next morning, Boone Isaacs told reporters that her top priority would be finding the next Oscar host … and boy, she didn't waste any time! Admittedly, it helped that producers Neil Meron and Craig Zadan were returning for this year's Oscarcast — that pick was announced back in April, and the two men had definitely been closing in on a host since — but today's news will reassure the Academy that Boone Isaacs moves quickly.
2. No more misogyny .
The day after last year's Oscars, all anybody could talk about was host Seth MacFarlane's misogynistic jokes; as Vulture's Margaret Lyons put it then, "This wasn't an awards ceremony so much as a black-tie celebration of the straight white male gaze." Suffice it to say, then, that there's no chance of DeGeneres scripting or performing a song as controversial as MacFarlane's "We Saw Your Boobs." DeGeneres is also the first woman to host the Oscars on her own since … well, since her solo stint in 2006. (Before that, it was Whoopi Goldberg in 2001.) Perhaps Boone Isaacs realized that the historically female Oscar audience deserved a little respect.
3. The Academy will stop chasing the young audience … for now.
Over the past few years, AMPAS has gone to great lengths to pick a host who'd make some noise: Whether it was the pairing of James Franco and Anne Hathaway in 2011, the aborted choice of Eddie Murphy as host for the 2012 Oscars, or Seth MacFarlane's pick last year, the Academy has seemed hell-bent on finding a host who might draw curious viewers — particularly, the elusive young male demographic — to the telecast. The 55-year-old DeGeneres signals a shift in thinking; we've seen her do this thing before, so the curiosity factor is nil, and young men aren't exactly her core audience. It wouldn't surprise me if AMPAS once again goes for an outside-the-box pick next year, but for now, the awards organization seems to have made peace with the idea of an Oscarcast that's comfy, familiar, and defiantly older-skewing.
4, Can DeGeneres keep calm?
If you think of DeGeneres hosting an awards show, the first thing that probably comes to mind is the Emmycast she emceed after the September 11 attacks, where she cracked the immortal line, "What would upset the Taliban more than a gay woman wearing a suit in front of a room full of Jews?" That was a monologue with a high degree of difficulty … and she aced it. Compare that to her Oscar monologue in 2006, where DeGeneres seems notably nervous (she confesses at the top of the speech that hosting the Oscars was a childhood dream). Things improved for DeGeneres after that shaky start — her segments from the audience involving nominees like Martin Scorsese played to all her strengths — but let's hope for a more polished monologue with some memorable zingers this time.
5. There will be less singing.
Do you know how long it's been since they picked a host who didn't take up several minutes of the Oscarcast with some sort of "Look, I'm a triple threat" musical number? It's been years! I mean, let's not count our chickens or anything, but with DeGeneres content simply to speak, maybe we'll get an Oscar ceremony that comes in on time and doesn't rely on schticky, sweaty show tunes. At the very least, she can farm that sort of thing out to the experts: At her last Oscarcast, DeGeneres ceded the funny-singing thing to Will Ferrell, Jack Black, and John C. Reilly.